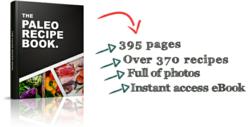 Too many people are told don't eat this or don't eat that and what they really need is to learn from a friend that knows their struggles with weight loss.
Memphis, Tennessee (PRWEB) July 22, 2012
Best Paleo Recipe Book might not be one that the average person has heard about yet although this newly released book was written to help people eat healthier. The Paleo way of eating goes back centuries to the beginning of time when cavemen ruled the world. The Paleolithic time period included only contemporary foods without sugars, processed grains and other substances now loaded into the diet of the average person. The Best Paleo Recipe Book includes over 370 healthy recipes and is now for sale online. The book includes special tips and advice that can help anyone to lose weight using this caveman style of daily eating.
This book is written to any person used to spending time at a fitness center to lose weight. The quick and easy recipes in this book could very well help a person to say goodbye to gym memberships by taking on the Paleo diet challenge offered in this instant downloadable book. "I wanted to create a book that was written for people not to people," said Sébastien Noël, Author of Best Paleo Recipe Book. "Too many people are told don't eat this or don't eat that and what they really need is to learn from a friend that knows their struggles with weight loss," Noel added. The simplistic approach that the Best Paleo Recipe Book is helping to provide offers an alternative to diets that do not work.
While FDA regulates what chemicals can be put into common foods, it does not regulate what foods that the public chooses to eat. The ancient Paleolithic men and women reportedly did not suffer from common ailments and diseases that many people struggle with today. Conditions like high blood pressure, heart disease, sleep apnea and stroke can be related to high intake of saturated fat and other processed ingredients that are commonly included in non-organic foods. Knowing what foods are healthy and which ones are not are the basis of the Paleo diet. The detailed photographs and nutritional information included in the Paleo e-book simplifies that process of creating healthy meals for an individual or a family.
Making changes to a meal plan is one of the first steps to eating healthy. One of the bonuses included with this new e-book is an 8-week meal plan to help someone adjust to the new eating style. The Paleo diet is one that is not full of bad tasting or overly expensive foods. A companion offered with this book is the free dessert guide that teaches healthy dessert eating the Paleolithic way.
About Best Paleo Recipe Book
Sébastien Noël is a nutritional and dietary expert that maintains a highly trafficked weight loss website. His authorship of the Best Paleo Recipe Book is one that came from personal challenges that took time, research and experience to overcome. As people worldwide struggle with weight loss and eating healthy, the options to get factual assistance and unbiased help can be limited. The 370 recipes that are included in the Paleo book are written exclusively for those wanting to improve their lifestyle and heating habits to help extend their happiness, energy and overall level of health.