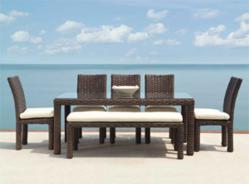 The Top 10 Best Big and Small Patio Dining Sets of 2013
Chicago, IL (PRWEB) April 28, 2013
Sharing meals outdoors during the warmer, pleasant months of the year has become more and more commonplace as casual furniture manufacturers have stepped up and developed patio and porch dining sets that act as an extension of the home. Now featured at Furniture For Patio are the top ten in both large (seats 6 or more people) and small (seats 4 or less) dining sets based on criteria such as comfort, style, quality of material, and all around durability. Furniture For Patio's sales professionals took into account sets that handle well when faced with both natural and man-made messes, as well as those that can be described as, "virtually maintenance free" and easy to clean. Manufacturers such as Homecrest, Woodard, PolyWood, and Telescope Casual are some of the made in the USA companies that are present across the two lists, while OW Lee and Lloyd Flanders have proven their worth, ranking in the top three for both Large and Small Dining Sets.
When it comes to limited patio space, smaller dining sets are a great way to still create a beautiful area for enjoying outdoor meals without feeling cramped or like your space is cluttered. The top 3 small patio dining sets all feature the classic 4 chair arrangement and each ranks high in a number of criteria that most patio enthusiasts base their purchasing decisions on. With the PolyWood Mod 5 piece dining set, the eco-friendly construction is a highlight as the furniture is good for the environment and strong/well protected against it. PolyWood's innovative HDPE plastic lumber is heavy duty and made from over 90% recycled material, but is also noted for its look of natural painted wood and the MOD collection's minimalist styling makes it sleek and attractive as well. Lloyd Flanders ranks #2 in small dining sets, and where MOD offers a contemporary look, The Reflections Dining Set is all about 25 years of American styling tradition. Wicker became a popular choice of material over the past few years, and Lloyd Flanders leads with comfortable, natural looking wicker chairs playing off of classic wicker design blended with new age elements (such as the exposed aluminum legs of the included round dining table.
It is OW Lee's high end luxury, style, and quality that sees the Gios wrought aluminum dining set take the #1 spot of Furniture for Patio's top ten small dining sets. This set brings a larger, more spacious presence to the limited, smaller patio area with its open arms and wide shapes/frame and presents an ultra-modern look for contemporary outdoor living. OW Lee is also featured in the # 2 spot when it comes to the larger dining sets, taking a more traditional approach with the classic look of wrought iron in the 7 piece Classico Collection. Both sets showcase the fine quality craftsmanship of the company's skilled artisans and include the superb comfort of outdoor cushions designed to hold up throughout the seasons.
From smaller sets best suited for 2 to 4 people, to larger sets which are ideal for bigger families or a gathering of friends, Telescope Casual ranks #1 with its green-living inspired Leeward MGP Sling dining set which seats 8 people comfortably. The Marine Grade Polymer material and sling seating used in the set's construction gives it the ultimate in casual styling and welcomes worry-free dining for all ages. The sling remains firm for support but will contour to the body for the utmost in relaxation, and overall the Leeward MGP 9 piece dining set will hold up well in all weather and conditions making it great for use by pool or beachside as well.
Other sets to take note of within FurnitureForPatio.com's top ten outdoor dining sets lists are Lloyd Flanders's woven vinyl Contempo dining set, Woodard Andover cushion 5 piece dining set, and the charming look of the Kensington II 7 piece dining set to name a few. In addition to the top ten from both small and large dining set categories, customers can also enjoy taking a look at "The Next 5" which presents a handful of sets that are on the rise. The top 10 dining sets lists can be viewed at http://www.FurnitureforPatio.com and all sets featured can be customized and purchased today!