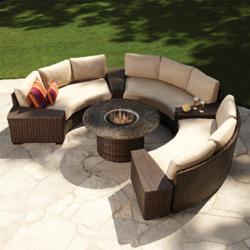 The best patio furniture of 2013 - ranked by style, comfort, quality, and price.
Chicago, IL (PRWEB) April 23, 2013
FurnitureForPatio.com has staked a reputation on offering great customer service with knowledge of their available products gained by testing them out first hand. Now the sales professionals have gone one step further by ranking a number of patio furniture sets using criteria such as quality, comfort, price, and design and presenting them to their customers in a series of Top 10 lists for the 2013 season. Featured categories currently available for browsing are best Big Dining Sets (seating for 6+), Small Dining Sets (seating for 4 or less), Patio Lounge Sets, Fire Pit Sets, Patio Sectionals, and Patio Bar Sets all of which feature a variety of looks for the traditional, modern, or transitional patio space.
Created with convenience in mind, each Top 10 list will allow customers to quickly view a high quality picture of each individual set as well as enjoy an interactive slideshow of all 10 in any given category. These images are accompanied by a breakdown of the set's features; highlighting points such as style, construction, customization options, and warranty information, and a brief description of the overall set. These lists are ideal for quickly relaying information for easy comparison of a number of aspects important to the patio enthusiast, and for more detailed information, a link is provided to the full product page as well as links to similar products broken down by manufacturer or collection.
Highlighted throughout these lists are many of today's top "Made in the USA" manufacturers who have remained ever committed to producing only the highest quality patio furnishings. PolyWood focuses on eco-friendly outdoor living with its innovative HDPE recycled plastic lumber, and ranks high in durability as well as casual style for the maintenance free patio space. Homecrest's high-end luxury at an affordable price places them in good standing with consumers around the world and their variety of outdoor sling and cushion furniture allows for versatile everyday living. Woodard Furniture also places a focus on living luxuriously in a casual atmosphere, and with over 140 years of history and furniture making knowledge backing them, they rank well in overall construction across wrought iron, aluminum, and wicker furniture development.
Across all 6 categories currently featured at Furniture for Patio, 3 manufacturers consistently show up in the top five, delivering incredibly popular and desirable sets time and time again. Answering the consumer's demand for environmentally conscious furniture that is equally stylish and comfortable, Telescope Casual is noted for their MGP products which have become a favorite for beach homes and all-weather environments over the past 3 years. Telescope outfits the heavy duty and reliable recycled frames with either sling or cushion seating for the maximum in casual relaxation, and also offers sets with incredibly durable aluminum frames that promote rust resistance.
When it comes to wicker, the "woven for life" mantra of Lloyd Flanders rings true as the company has perfected the art of capturing the look of natural wicker without the worry of burring, cracking, or fraying over time, placing them at the very top of the outdoor wicker furniture industry. The blend of classic style and contemporary design elements sees many of their sets rank in the top 5 as they are perfect fits for both the traditional and modern patio, and Lloyd Flanders's ComfortPlush seating system is responsible for the development of fast drying, ultra-plush cushions for exceptional outdoor comfort.
Hitting all the right notes across a number of criteria, OW Lee ranks high in almost every category when it comes to outdoor living and is a featured favorite throughout every top ten list. With a commitment to quality and hand-crafted detail, the sets our professionals tested showcased the utmost in overall design and comfort, featuring cushions that will have you sinking into serenity and wrought iron and wrought aluminum frames that offer ornate styling as well as superior strength. Taking either the #1 or #2 spot in 5 of the six patio set categories, OW Lee's use of centuries old techniques mixed with modern technology has proven to be a winning combination creating stand out furniture for use season after season.
These top ten lists, as well as an expansive catalog of casual outdoor furniture, can be viewed directly at http://www.FurnitureForPatio.com. The company plans on releasing future top ten lists as well for the 2013 season and beyond as their professionals continue to test, review, and rank the products made available for purchase.