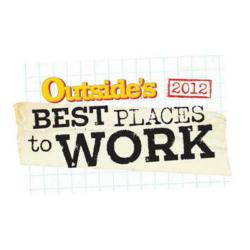 Adventure Life believes success depends on helping their employees live more active and fulfilling lives.
Missoula, MT (PRWEB) August 02, 2012
The award-winning travel company Adventure Life today was named to Outside Magazine's fifth annual "Best Places to Work" list. Profiles of the top-ten-performing small, medium, and large companies will be published in the September issue of Outside magazine, available on newsstands August 14, 2012. The full list of 100 is available at outsideonline.com. For more information or Adventure Life reviews, visit http://www.adventure-life.com.
Outside's "Best Places to Work" project celebrates the innovative companies setting a new standard for a healthy work-life balance. The list was compiled with the help of the Outdoor Industry Association and Best Companies Group. The yearlong selection process began with an outreach effort that identified a wide range of non-profit and for-profit organizations with at least 15 employees working in an office in the United States. Participating companies were sent confidential employee-satisfaction surveys and employer-questionnaires to collect information about benefits, compensation, policies, job satisfaction, environmental initiatives, and community outreach programs. The experts at the Best Companies Group then analyzed the results and selected the companies that best enable employees to pursue active lifestyles while also supporting their social and environmental contributions.
"It is always an honor to be recognized by such a reputable publication," said Adventure Life CEO Brian Morgan. "Whether it's offering stipends for biking or busing to the office, in-house yoga classes, company sponsored travel opportunities, or allowing our employees to bring their newborn children to work, we try our best to make Adventure Life an ideal place for active lifestyles."
In past years, Outside has highlighted 50 outstanding companies, and Adventure Life has made the list three times since 2008. This year, Best Companies Group determined that there were so many top-quality applicants that the list needed to be expanded. Outside editors agreed, and doubled the size of the list.
"We're thrilled to celebrate all 100 of these forward-thinking companies," says Michael Roberts, Senior Executive Editor of Outside. "They believe success depends on helping their employees live more active and fulfilling lives. The kinds of benefits they're providing—free fitness classes, flexible hours, subsidized healthy meals, lots of time out of the office—result in a more productive and engaged staff."
About Adventure Life:
Adventure Life is a company of travelers with a passion for sharing the world with others. Our travel experience runs deep, from years volunteering in rural Africa and Central America, to research trips in Asia, studying in Europe, guiding in the Rockies, and just bouncing around every corner of the world. This deep experience is the reason behind our pioneering approach to travel and award winning itineraries. For nearly 15 years we have been creating personal itineraries that immerse our travelers in the vibrant colors of a place, leaving both our guests and hosts enriched by the experience. From our beginnings as a Latin America specialist, we now offer private journeys, small group tours, and expedition voyages throughout the world. We pride ourselves on our intimate knowledge of our destinations and our dedication to sharing the world. For more information or Adventure Life reviews visit us on Facebook.