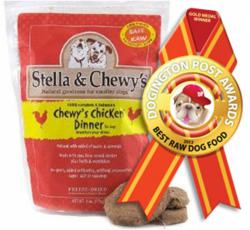 We are proud to announce Stella & Chewy's as the gold medal winner in our Best Raw Dog Food category. Their loyal fans and happy customers gave them the award.
Boca Raton, FL (PRWEB) February 12, 2013
As part of a larger initiative to educate dog owners on proper nutrition, effective training, and other ways to raise a happy and healthy dog, the Dogington Post reviewed products, toys, food, treats and trainers for their first annual Dogington Post Awards of 2012.
"We used strict criteria when nominating companies and products for these awards," explained Brandy Arnold, Content Editor for Dogington Post. "Stella & Chewy's raw food is manufactured in the United States with local ingredients and thoughtful sourcing, handling, and processing."
Readers and fans voted for the Best Raw Dog Food and chose Stella & Chewy's as their favorite.
Stella & Chewy's began when founder, Marie Moody began feeding her dog a raw diet on the advice of her veterinarian. After seeing vast improvements in the health and vitality of her dog, she sought to make a commercially available product as good as what she was making at home.
"The result," Brandy explained, "is a complete raw food diet that is free of preservatives, hormones, antibiotics, and unhealthy grains & fillers. Additionally, Stella & Chewy's makes feeding raw more convenient than ever before with their line of frozen, pre-portioned meals and freeze-dried diets."
In response to their Best Raw Food award, Marie Moody told Dogington Post, "We were thrilled to find out that after thousands of fans casted their votes in the First Annual Dogington Post Awards, Stella & Chewy's was chosen as the Gold Medal Winner for Best Raw Dog Food! Thank you everyone! We appreciate your support and will continue to produce the best raw products available for your loved ones. Dogs and their owners have spoken!"
Dogington Post reaches over 2.5 million dog lovers each week. The site's readers were asked to vote for their favorite raw dog food in an online contest that ran in January 2013.
"We are proud to announce Stella & Chewy's as the gold medal winner in our Best Raw Dog Food category," said Arnold. "Between their philosophy of providing the best quality food to pets and their dedication to animal welfare, nominating them was easy. Their loyal fans and happy customers gave them the award."
For more information about Dogington Post and their Dogington Post Awards, visit http://dogingtonpost.com.
About Dogington Post:
DogingtonPost.com was created for the love of dogs. It promises a forum of informative articles, newsworthy dog stories, health and breed information, and heartwarming videos. The site addresses current issues affecting dogs and their human parents – from serious health concerns to lifestyle issues on feeding, grooming and the overall well-being and mental health of dogs. It is the Internet newspaper, all about dogs.
About Stella & Chewy's (http://www.stellaandchewys.com) - Stella & Chewy's markets raw freeze-dried and frozen pet food for dogs and cats. All of the Company's products are manufactured in our Wisconsin facility and contain no grains or fillers, are gluten-free, and enhanced with probiotics, vitamins, & minerals. Our commitment to nutrition, palatability, and safety is unparalleled. Stella & Chewy's—Only The Good Stuff™!