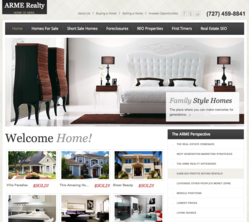 If it has to do with real estate, we are the consultants who can help any agency anywhere in the US with their SEO
Tampa, FL (PRWEB) June 08, 2013
Finding a qualified and competent real estate SEO consultant for a real estate agency is no different than finding a consultant for any SEO purpose. In fact, the questions asked should be exactly the same for real estate agencies as for any other company. Now, a company ARME Realty.com has created the next generation SEO web development platform for real estate professionals and now has consultants available for hire.
"There is no magical formula for SEO, but real estate SEO can be different because of the niche business. Before dropping lots and lots of hard earned cash on SEO, be sure to ask a few questions first," said Simon Landers of ARMERealty.com, a real estate SEO consulting firm.
Questions to ask are typical such as requesting references or evidence of work in the past. For a real estate company, the questions need to be about the real estate business specifically. Many SEO companies will not be able to answer those questions.
"Searchengineland.com had an excellent article on questions for SEO consultants, and the questions are sound and valid for any business. Real estate firms and agencies have their own specific questions to ask and have answered," said Landers.
Real estate companies need SEO that goes down to the local zip code. Some SEO companies are not able to guarantee such specialized SEO, and additionally real estate has its own particular terms and jargon, some SEO companies do not have the specialized understanding necessary. This is where ARMERealty.com is different.
"If it has to do with real estate, we are the consultants who can help any agency anywhere in the U.S. with their SEO," said Landers. No matter what real estate SEO consulting company a real estate company chooses, the most important question to ask is universal any time there is a need to hire for a specific service.
"Always ask for references," said Landers, "a company that is unwilling to give references or share information needs to be left alone."
Contact the company today to learn more about their programs by calling (727) 459-8841 or visit ARMERealty.com today.