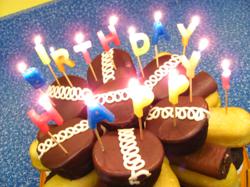 This restaurant has supplied its special event services to the public since its grand opening in mid 2012.
Jacksonville, Florida (PRWEB) February 08, 2013
Some businesses support the local economy in more ways than providing a simple service. Finding a large enough area to hold special events like a wedding or birthday party could prove challenging for last-minute plan changes. LeGrand's Steak and Seafood in Jacksonville, Florida is now is a best restaurant for birthday parties for children and adults according to published reviews.
This restaurant has supplied its special event services to the public since its grand opening in mid 2012.
Many restaurants continue to market to adults for breakfast, lunch and dinner and some have reduced the size of the menu for kids. Adult entrees typically cost 3 to 5 times more than a child's meal according to 2012 restaurant surveys.
One of the ways that LeGrand's is helping to provide more value to families is by offering multiple menu items for adults and children. With installation of one of the only known cotton candy machines in a Jacksonville restaurant, both children and adults now have access to this popular feature.
A small or large birthday party usually requires plenty of seating area to ensure all guests are accommodated. Since most chain restaurants have one floor plan, finding a dining room that is capable of seating more than 50 people can be difficult in or outside of the city. New expansions at LeGrand's include the spacious meeting room that can be used for any size birthday party or similar event. This new room includes free Internet hookup as well as an 80 inch LCD television.
Private parties, business meetings, birthday parties, fundraisers and local club meetings can now be booked courtesy of LeGrand's Steak and Seafood management using the following information:
LeGrand's Steak and Seafood
11290 Old St. Augustine Road
Jacksonville, FL 32257
(904) 268-3663
marketing(at)legrandssteak(dot)com
About LeGrand's Steak and Seafood
LeGrand's Steak and Seafood opened in 2012 and is now one of the most trafficked restaurants in the Jacksonville, Florida area. The exclusive menu of multiple steak sizes combined with homemade desserts and fresh sides has helped to provide alternatives to traditional restaurants near the downtown area. LeGrand's Steak and Seafood offers affordable prices and a fun and family-friendly interior. New additions like all you can eat ribs and shrimp on select days of the week have helped this restaurant increase its serving capacity for individuals and families.