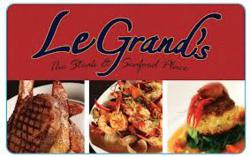 Receptions can be scheduled by calling (904)-268-3363.
Jacksonville, Florida (PRWEB) February 07, 2013
One of the largest expenses for a couple planning a wedding is securing a meeting area that is suitable for a wedding reception. LeGrand's has recently been judged as a best restaurant for wedding receptions in Jacksonville, FL due to its recent interior expansions. A brand new meeting area is now used to hold large and small receptions for an affordable price. Apart from the meeting area, food is also available at discount prices when arranged in advance with restaurant management. Receptions can be scheduled by calling (904)-268-3363 or by visiting LeGrand's Steak & Seafood online.
Dining out for lunch or dinner is a combination of the atmosphere and the quality of the food. Restaurants that are able to satisfy all guests on every visit could surpass industry benchmarks for longevity.
The expanded lunch and dinner menus that are now offered at LeGrand's Steak & Seafood are in addition to the updated decor now found in the dining room. The new mural showcasing the local history of Jacksonville from the 1950s is one way this restaurant is providing a friendly and relaxed experience for guests.
The changes that have been put in place by LeGrand's since the 2012 opening have received overwhelming responses from locals and tourists who visit this restaurant daily. The new 32 oz Tomahawk steak challenge is the only one of its kind in the North Florida area.
The addition of two all you can eat specials represent additional changes that are now permanent fixtures on the dinner menu. The positive guest experiences this restaurant has received has made it possible for more companies and nonprofit groups to use this restaurant as a meeting place.
All media inquiries, employment applications or notes of thanks can be directed to restaurant management using the following address:
LeGrand's Steak & Seafood
11290 Old St. Augustine Road
Jacksonville, FL 32257
(904) 268-3663
marketing(at)legrandssteak(dot)com
About LeGrand's Steak & Seafood
LeGrand's Steak & Seafood is independently owned and operated by the LeGrand family and is unlike corporate owned chain restaurants in Florida. The relaxed atmosphere at this restaurant combined with its exclusive culinary menus has provided the alternative that many locals and tourists demand in the local area. With its daily happy hour and food specials, this restaurant offers exclusives to all guests who visit this restaurant daily. LeGrand's Steak & Seafood includes an expert service and culinary staff dedicated to making all visits to this restaurant memorable for each guest.