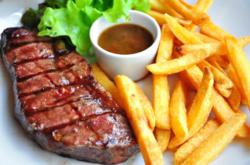 A variety of items are now available on the new menus to provide alternatives to every guest.
Jacksonville, Florida (PRWEB) January 25, 2013
The close proximity to the Atlantic Coast provides some restaurants in North Florida with various types of seafood. One new restaurant has recently joined the ranks as one of the best restaurants in Jacksonville, FL according to some published reviews.
LeGrand's Steak and Seafood has consistently improved its brunch, lunch and dinner menus to include expertly prepared foods in its professional kitchen.
This restaurant is now frequented by many in the Jacksonville area. LeGrand's is located in Mandarin and reservations can be made online or by phone at (904) 268-3363.
The pairing of seafood and steak at one location represents only one of the unique features that are now found at LeGrand's. The addition of the new brunch and lunch menus are a direct result from feedback from local guests.
The new business hours for lunch begin daily at 11 a.m. to provide prompt service to locals, tourists and businesses in the greater Jacksonville area. A variety of items are now available on the new menus to provide alternatives to every guest.
Since restaurants that serve great food can fill up quickly, a new reservation system was built on the Legrand's Steak and Seafood website to help individuals and families ensure that a table is waiting during peak business hours. This new online reservation system provides a one-click process to reserve a table of any size entirely online or by mobile Internet enabled cell phones. This recent innovation is one example of the upgrades that have happened recently at LeGrand's to better serve all guests.
Aside from the updated menus, corporate meetings and events are now booked directly by the restaurant management. Some of the top companies in the Jacksonville area have booked special events for lunch and dinner at LeGrand's to take advantage of the new menu items and affordable prices. These new events, corporate meetings and fundraisers are examples of how this restaurant is giving back to its community.
General information, media inquiries or employment information can be obtained by using the following information:
LeGrand's Steak and Seafood
11290 Old St. Augustine Road
Jacksonville, FL 32257
(904) 268-3663
http://legrandssteakandseafood.com
New reviews are posted daily by guests who enjoy the culinary excellence provided by LeGrand's. These reviews can be found online at http://local.jacksonville.com/b23306160/LeGrand%27s+Steak+%7C+Seafood.
About LeGrand's Steak and Seafood
A professional kitchen, talented staff and a welcoming atmosphere are combined with great food at LeGrand's Steak and Seafood in Mandarin, FL. This restaurant is quickly growing into one of the best in the North Florida area due in part to its consistent menu and cooked to order cuisine. The Signature LeGrand menu is what helped this restaurant to gain a following with locals, businesses and tourists searching for a memorable steak and seafood experience. LeGrand's Steak and Seafood on Old St. Augustine Road and is open seven days a week to provide the highest quality food and service to guests frequenting this restaurant.