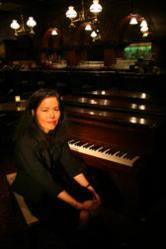 Come join us and have a martini, listen to live music and enjoy one of San Francisco's greatest bar lounges.
San Francisco, CA (Vocus/PRWEB) March 17, 2011
Every Thursday through Saturday San Franciscans and visitors can enjoy a martini in hand, a medium rare steak dinner, and classical jazz music playing in the background. Harris' Restaurant and Steak House offers up their bar and lounge as a more casual, though more dynamic and lively alternative to their more formal dining room. Located on Van Ness Avenue in San Francisco, the Harris' Restaurant bar and lounge is the perfect place for dinner and drinks and the musical stylings of the Susan Chen Trio after work.
Coda Magazine hails Susan Chen as "one talented lady of the piano," and Owner Ann Lee Harris says, "Come join us and have a martini, listen to live music and enjoy one of San Francisco's greatest bar lounges."
The Susan Chen Trio has been playing at Harris' for many years, and has established a dedicated following for their Thursday, Friday and Saturday night entertainment, with patrons who come for not only for the music and atmosphere, but for the cuisine as well.
Known as one of the best Bay Area restaurants, Harris' focus as a steak house is high quality beef, they offer a wide selection of dry aged beef which is prepared by their in house butcher and is then grilled on an open range mesquite grill. Their menu also offers the steak house classics of creamed spinach, baked potatoes, lobster, and salmon. Another must have at Harris are their signature cocktails and martinis, as well as an extensive wine list and a sommelier on site.
For more information about the Susan Chen trio please visit their website at http://www.susanchenmusic.com, and to make a reservation at Harris' Restaurant or to inquire about its many services, please call them at (415) 673-1888, or visit their website at http://www.harrisrestaurant.com.
Harris' hosts live music seven nights a week. Ken Muir performs Sundays and Mondays, George Khouri plays piano and standing bass or sax Tuesdays and Wednesdays, and the Susan Chen Trio performs Thursdays and Fridays.
About Harris' Restaurant in San Francisco
Harris' Restaurant is located on Van Ness Avenue in San Francisco in a remodeled building that previously held Grisons' Steak House. Their focus is on creating an atmosphere of sophisticated dining, and serving high quality, Midwest raised beef. Harris' also features a piano bar and lounge that serves a more casual dinner, for patrons without reservations. Harris' is a popular Bay Area private dining venue for holiday parties, rehearsal dinners, and speaker events.
About the Susan Chen Trio
Susan's musical career found her exploring toy pianos at four, studying piano with the pianist of the St. Louis Symphony at seven and performing with the symphony's local appearances at ten. She survived eight more years of classical music before dropping out of Oberlin Conservatory and her previous career to begin listening to jazz. Since moving to San Francisco in 1990, Ms. Chen has been leading her own trio and playing in the city's foremost nightclubs.
# # #