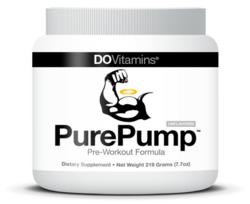 Even if it weren't the only safe pre-workout supplement on the market, PurePump™ would still stand out as one of the most effective.
Las Vegas, Nevada (PRWEB) May 22, 2012
Do Vitamins® is proud to introduce PurePump™, the world's first pre-workout supplement containing no artificial ingredients, no banned substances, and no dangerous chemicals.
Pre-workout supplements are hugely popular, taken by everyone from high school athletes to professional bodybuilders. Unfortunately, the majority of these products contain questionable ingredients, and even potentially dangerous chemical stimulants. The US Army recently banned the popular pre-workout supplement Jack3d from military bases after two soldiers died from heart attacks during exercise. One of the most controversial ingredients used in Jack3d and other pre-workout supplements, dimethylamylamine (DMAA), has recently been banned by the FDA.
Frustrated with the low quality and safety standards of existing pre-workout supplements, Do Vitamins® developed PurePump™, a pre-workout supplement unique in that it contains no artificial ingredients and no dangerous chemicals; perhaps the first and only safe Jack3d alternative. Even student and professional athletes can use PurePump™ without regulatory fear. It's a safe, clean pre-workout supplement for athletes who demand the same purity of their supplements that they do of their body and sport.
Do Vitamins® is proud of the purity and potency of its entire product line, and unlike the vast majority of pre-workout supplements, the PurePump™ label clearly lists its ingredients and quantities. Instead of hiding behind "proprietary blends," Do Vitamins® is happy to brag about what goes into making PurePump™ so powerful, but also so safe: "Label transparency is critical - consumers have the right to know exactly what they're putting into their bodies."
Another big advantage of PurePump™ is that it is unflavored and unsweetened, so it can be mixed with anything. For example, many athletes like to make a protein shake to fuel up before working out. Other pre-workout products, with artificial flavors like "Orange Blast" and "Blue Raz," would taste horrible in a vanilla or chocolate protein shake. However, with PurePump™, athletes can enjoy the benefits of a pre-workout boost without polluting their protein. Others will be happy and able to mix PurePump™ with their favorite sports drinks. And for those who prefer to workout on an empty stomach, the ability to quickly "shoot" PurePump™ with only a few ounces of water will be of standout importance. With zero calories, PurePump™ won't interfere with diet regimens.
Certainly, PurePump™ is a game-changer for its safety and purity, but PurePump™ testers and Do Vitamins® staff are athletes, and they are most excited about its effectiveness: "Pre-workout supplements are so popular because they work, and PurePump™ works better than anything we've tried. PurePump™ provides a clean, sustaining boost for incredible workouts, without stomach upset, jitters, or a post-workout caffeine crash." Developed with effectiveness as its first priority, PurePump™ features USP-grade amino acids, creatine monohydrate, alpha lipoic acid, and natural stimulants combining for powerful energy, focus, and strength. Even if it weren't the only safe pre-workout supplement on the market, PurePump™ would still stand out as one of the most effective.
PurePump™ enters the competitive pre-workout supplement market with three standout features: 1) It is completely pure and safe, containing no artificial ingredients, banned substances or dangerous chemicals. 2) It is unflavored and unsweetened, so it is flexible in its application. And finally, 3) it's exceptionally powerful and effective. Each tub of PurePump™ contains 30 servings and is proudly made in the United States in accordance with Good Manufacturing Practices (GMP).
PurePump™ is available now from Do Vitamins and Amazon.
About Do Vitamins®
Do Vitamins® is a company not afraid to "do" things differently. Combining relentless perfectionism with unique products, the company sets new standards for product quality and purity. Known for their trademark "Vitaminisms," Do Vitamins® stands alone in philosophy and in lifestyle: "Don't just take vitamins - Do Vitamins®."