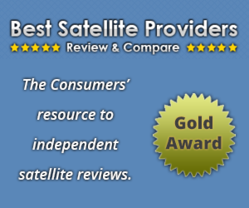 Review the leading satellite Internet and satellite TV providers online at BestSatelliteProviders.com.
Lancaster, PA (PRWEB) May 14, 2013
BestSatelliteProviders.com, the independent satellite Internet reviews site, conducts reviews of the best satellite Internet providers in the nation. Each satellite Internet provider is reviewed according to their customer service, speed and monthly data cap to name a few. The 2013 reviews for the best satellite Internet provider has now been made available for release.
Satellite Internet customers are often in rural areas and options are rather limited for Internet access. Satellite Internet has drastically improved over the past few years and is now one of the best choices for rural customers wanting a high-speed Internet connectivity package.
Adam Matthews from BestSatelliteProviders.com states, "After interviewing consumers the BestSatelliteProviders.com team discovered that high-speed access isn't the only concern when shopping for a satellite Internet service. The monthly bandwidth available is equally as important. Some consumers also expressed that they would prefer to have both their satellite TV and Internet in a single bill."
The winner of the 2013 BestSatelliteProviders.com's Gold Award for the best satellite Internet service goes to HughesNet. HughesNet offers download speeds up to 15Mbps in available areas and has the largest monthly data cap of all the satellite Internet services reviewed. Additionally, HughesNet offers a generous upload speed of 2Mbps. In a close second place is dishNET with speeds up to 10Mbps depending on location.
To view the packages offered by the leading satellite Internet providers and to see how they compare, please visit BestSatelliteProviders.com at:
http://www.bestsatelliteproviders.com/satellite-internet-providers/
The majority of consumers interviewed prefer to view a side-by-side comparison before making a purchase on which satellite Internet or satellite TV package to select. In addition to the comparisons most consumer prefer to read reviews from an independent 3rd party resource to ensure they are purchasing the best satellite Internet package for their home and family.
About BestSatelliteProviders.com
BestSatelliteProviders.com is the leading satellite TV and Internet reviews site that is focused on delivering satellite shoppers with the latest information and facts on satellite Internet packages and satellite Internet deals. BestSatelliteProviders.com is also focused on publishing reviews of satellite TV providers and services. Each satellite TV and Internet company is reviewed in detail and compared in an easy to read side-by-side comparison.