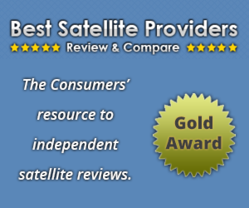 Consumers' look to BestSatelliteProviders.com for the most up to date reviews on satellite Internet services.
Detroit, MI (PRWEB) June 04, 2013
BestSatelliteProviders.com the online satellite TV and Internet reviews site helps thousands of consumers compare the features and services offered by leading satellite Internet service providers. The satellite reviews website just released their 2013 rankings of the best satellite Internet service providers and the results are available via their website at:
BestSatelliteProviders.com – Satellite Internet Services
Selecting a satellite Internet plan that has adequate download speeds and enough monthly bandwidth is the biggest deciding factor among consumers interviewed. Nowadays, the download speeds are more than enough for any user even on the lowest plans, but the monthly bandwidth must be considered a little more carefully. The top rated satellite Internet company offers a plan that includes 20GB of monthly download as well as another 20GB of bonus during off hours. This is the equivalent to downloading 10,000 songs in MP3 format per month. Most users will never reach this limit.
Even if a user goes over the monthly limit, the service is not shut off and additional charges are not incurred. The speeds are simply regulated until the user is in the next monthly cycle. It is labeled as a Fair Access Policy so all users can enjoy the fast speeds and bandwidth that satellite Internet has to offer.
According to Adam Matthews, from BestSatelliteProviders.com, "Satellite Internet has really improved leaps and bounds over the past ten years. Now satellite Internet service providers match speeds of both cable and DSL. Satellite Internet services have opened up new ways of connecting for consumers living in rural areas who can't buy cable or DSL."
The 2013 best satellite Internet service provider award goes to HughesNet. Hughesnet, has been in business for over 30 years and is the best option for satellite Internet services according to BestSatelliteProviders.com. HughesNet offers fast download speeds, 24x7 technical support and agenerous amount monthly bandwidth.
To view side-by-side comparisons of the features and services available from the leading satellite Interent providers, consumers can visit BestSatelliteProviders.com at:
http://www.bestsatelliteproviders.com/satellite-internet-providers/
About BestSatelliteProviders.com
BestSatelliteProviders.com is the number one satellite reviews website that offer 3rd party and unbiased reviews of the best satellite TV and satellite Internet providers. The deals and packages along with the services and options of each satellite provider are outlined and compared on the BestSatelliteProviders.com website. Consumers who are in the market for satellite rely on the reviews at BestSatelliteProviders.com.