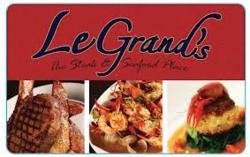 One of the new additions that has been a popular attraction at Legrand's is the all you can eat shrimp for $14.95.
Jacksonville, Florida (PRWEB) January 19, 2013
Fresh fish and other seafood is one of the benefits that some restaurants have access to when operating near the Atlantic coast. LeGrand's Steak and Seafood in Mandarin is now offering the best seafood in Jacksonville, FL at discounted prices. The new dinner menu is now updated to include these varieties that includes local favorites and classic seafood cuisine. More information can be found online at http://legrandssteakandseafood.com.
The tourism in Florida is part of what supports many local companies. The restaurant industry in this state is a mixture of fine dining, family-friendly eateries and exotic locations that are geared towards tourists. The fresh food that is prepared to order at LeGrand's includes some of the finest entrees now available in the Jacksonville-Mandarin area. The snow crab legs, blackened salmon, mahi-mahi and catch of the day represent a portion of the fresh seafood menu that prepared Monday through Sunday.
Aside from the customized dinner menu, the variety of prime cut steaks that are now available are offered to individuals who want to sample cuisine other than sea-based prepared entrees. The complete range of steak temperatures are now offered to allow each guest the ability to have an expertly prepared cut of meat. This alternative is offered as an alternative to the various restaurant menus in the downtown area.
One of the new additions that has been a popular attraction at Legrand's is the all you can eat shrimp for $14.95. This new lower price is provided at a fraction of the cost of similar restaurant menus in the local area. This new Wednesday night incentive is one way that this family-friendly restaurant is reaching more guests in the North Florida area. In addition to this offer, the Silver Salmon club memberships are now in effect to provide more ways guests can receive discounted pricing.
Individuals or families living in the local area or visiting can make contact with LeGrand's for a dinner reservation, lunch or brunch visit at the following location:
LeGrand's Steak and Seafood Restaurant
11290 Old St. Augustine Road
Jacksonville, FL 32257
(904) 268-3663
About LeGrand's Steak and Seafood Restaurant
The 2012 year was one of growth for the LeGrand's Steak and Seafood restaurant. This company opened its doors in August and quickly became the talk of the North Florida area. With hundreds of seafood restaurants in Jacksonville, the addition of steak and fresh fish options have helped this restaurant to reach a broader demographic of local guests and tourists. The LeGrand's Steak and Seafood Restaurant business model has helped this company to provide the lowest possible cuisine pricing without sacrificing the cooked to order policy. Successful real estate entrepreneur, Ron LeGrand, is the owner and restaurateur of this family-friendly company.