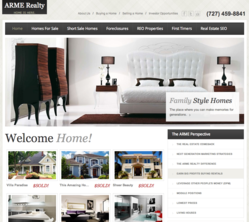 ARME Realty is interested in helping realtors build their online real estate inventory and increase their internet presence while at the same time reaching out to these affluent buyers
(PRWEB) June 24, 2013
ARME Realty.com was voted today as the Best SEO Companies For Real Estate by the 5th Annual South Florida International Real Estate Convention. An extensive amount of time and effort was put into the development of ARME Realty.com's international website development software. Being voted best SEO companies for real estate must truly be rewarding.
International home sales in the U.S. are at their second highest level in recent years. Although the numbers are down from the prior year international home sales are over six percent of total existing-home sales in value. The interest in U.S. properties continues to grow, proving that America continues to be regarded by overseas buyers as a lucrative investment.
Foreign buyers continue to have a substantial interest in U.S. properties. In most cases an online relationship was first to develop with the initial property search landing the buyer on the realtors website, and then communication continuing from there. Twenty-seven percent of Realtors reported having worked with international clients this year, and again many of them had a website that being managed regularly and continuously producing new content.
Realtors are conducting purchases from 68 countries. Five of those countries account for a majority of those purchases; Canada (23 percent), China (12 percent), Mexico (8 percent), India (5 percent) and the United Kingdom (5 percent). International buyers tend to cluster in specific locations based on countries of origin, as well as several other factors. This accounts for the large population of international cliental mainly settling in what are only five states including, Florida, California, Arizona, Texas and New York. Which also explains the increase of business, and recent media coverage being received by ARME Realty from these popular states.
"The types of homes being acquired by international buyers frequently differ from the types of homes purchased by domestic U.S. buyers," says Simon Landers, ARME Realty spokesperson. "International buyers are likely to be substantially wealthier and looking for a more luxurious properties. ARME Realty is interested in helping realtors build their online real estate inventory and increase their internet presence while at the same time reaching out to these affluent buyers," continues Simon Landers.
If would like to learn more about ARME Realty and their and their cutting edge web development for real estate programs please call (727) 459-8841 and speak with an agent.