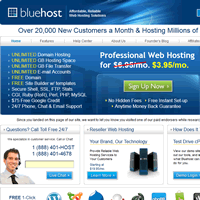 San Francisco, CA (PRWEB) August 18, 2012
Top-Cheap-Web-Hosting.com named BlueHost as the best shared hosting service for personal and small businesses in 2012 for the BlueHost reliable, fast, rich-featured and budget web hosting service with the responsive technical support, after the TCWH editors have reviewed 100+ reputed shared hosting companies.
As introduced, BlueHost has been the largest web hosting company since 1996 that only offers a single all-in-one unlimited shared hosting plan named "BlueHost professional" at all the time. BlueHost was awarded as the best shared hosting service by leveraging their rock-solid knowledge and rich experience.
Based on the web hosting performance and hosting uptime comparison by Top-Cheap-Web-Hosting.com, the websites hosted with BlueHost have the loading times that average only 0.67 second/page, and have the hosting uptime that average closed to 99.9%. The high performance and strong reliability of BlueHost shared hosting comes from the 3 world-class dedicated data centers in Provo Utah that BlueHost has invested 20+ million USD since 2010, and millions of USD invested on updating servers for every year. BlueHost data centers were built with 4 separate physical fiber lines brought directly into building through 2 diverse entrances with access to all major IP/transit providers with internet bandwidth exceeding 10,000MBits totally, and all the BlueHost servers are using the latest 4x AMD Operton processors, 32-64GB DDR3 memory and RAID10 SATA3 disk now.
BlueHost professional shared hosting is starting at $6.95/mo regularly, but now they're providing a compelling 44% discount for $3.95/mo for all visitors going through a BlueHost promotional link found here. At this competitive price, the best shared hosting service from BlueHost includes the following attractive features:
1) 150+ Apache modules supported, including URL Rewrite, GZIP, Image Magick, CURL, etc
2) PHP 5.2.17/5.3.10, Ruby (3.2) on Rails (1.9), Python (FastCGI), Perl, MySQL, PostgreSQL.
3) 256MB PHP "memory_limit" - deal with large requests easily.
4) cPanel, SimpleScripts & Fantastico, 1-Click to install up to 150 applications in a few minutes.
5) Anytime money back guarantee & trusted no hidden fee.
6) Free domain for life, and unlimited websites hosted on 1 account.
7) Free $100 Google AdWords credits for US/Canada residents.
8) 24x7 100% US-based technical support with holding times that average less than 30 seconds.
To learn more about the best shared hosting service from BlueHost, visit http://www.top-cheap-web-hosting.com/web-hosting-guide/best-web-hosting-2012
About Top-Cheap-Web-Hosting.com
Top-Cheap-Web-Hosting.com (http://www.top-cheap-web-hosting.com), is an independent shared hosting review website, rating shared hosts based on the true experience and the real customer reviews, designed to help people find the best shared hosting service at the most affordable rate.