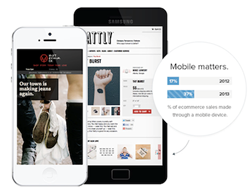 Anyone that is looking for a shopping cart platform needs to see all the ins and outs of each platform at ecomreviewed.com.
Houston, TX (PRWEB) March 04, 2014
The increasing demand of consumers to be able to purchase both physical and intellectual
products online through secure, user-friendly websites has caught the attention of Richard Brown, prompting an investigative review of the best providers of online shopping cart software.
Learn more about the top 3 eCommerce platforms here.
"With today's consumer climate, it's no longer enough to just have an online shopping option to be ahead of the competition—that online shopping option has to be well-designed, extremely functional, and very secure," reports Brown. "We've taken a look at the top players in the shopping cart market to help business owners determine which service is best for their ecommerce site."
Currently, the largest shopping cart software providers in the market are Volusion, Shopify, and Bigcommerce. Each offers very similar tools, features, support, and pricing but differ in the specific tools that they offer for the convenience of site owners. A successful ecommerce website has a design that is intuitive, professional, and polished. It provides site owners with user-friendly tools to build their site, as well as a user-friendly interface to give site visitors a convenient and easy-to-use experience. Having a variety of shopping features available through the software is also important to promote customer loyalty through promotional codes, daily deals, wishlists, cookie enabling, live order tracking, and more. Successful shopping cart software also provides a completely secure platform for customer purchases as well as direct assistance from a support team for technical difficulties that can likely arise.
"In our comprehensive review of these most important features for online shopping cart software, we found that Shopify far surpasses other options on the market in terms of the variety of tools and convenience that it offers customers," says Brown.
"Shopify offers by far the most options for beautiful, professional themes—more than 100 of them. Additionally, Shopify customers have access to more than 580 Apps to plug in to the online store, offering tools such as accounting, inventory, reporting, marketing, and more."
"For site owners who are looking for an affordable, yet robust and convenient shopping cart software, Shopify is absolutely the right choice. There's certainly a reason why more
than 90,000 shop owners have already chosen Shopify to power their ecommerce sites."
Those wishing to purchase the Shopify software for their site, or for more information, click here.
To access a comprehensive Shopify review, visit http://www.ecomreviewed.com/.