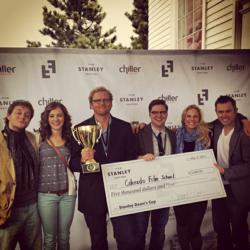 In terms of these projects, all of my success has to do with being (at CCA) and learning lessons. It's also put me in contact with really talented people in the field – true artists in the film world...In terms of film, it's given me everything.
Denver, Colorado (PRWEB) May 15, 2013
The Colorado Film School's lone submission to the inaugural Stanley Horror Film Festival in Estes Park, Colo., was bestowed the judge's award for best picture May 3. The Film School is a department at CCA, an Aurora and Denver community college.
"Peak of Terror," a 20-minute sizzle reel directed by John McSween, written by McSween and Ben Dunn, and produced by Dunn, centered upon a monster terrorizing a small town and a woman confronting her past to protect the people she loves.
But the biggest news to come out of the festival for the filmmaking duo wasn't the Stanley Dean's Cup Award trophy or accompanying $5,000 first prize.
Sara Risher, current managing partner in Chick Flicks and former president of New Line Cinema, whose productions included the Nightmare on Elm Street series, and Colorado Film commissioner Donald Zuckerman have committed to raising the $500,000 to $1.5 million needed from investors to shoot a full-length movie stemming from the short, beginning in the fall.
Zuckerman and Risher between them have produced about 70 feature films.
Early conversation is that McSween and Dunn will write the feature, with McSween directing.
"As Donald Zuckerman told them, it will change their lives," said Frederick Lahey, director of the Colorado Film School. "And what it means is that the professional focus of the school is paying off in the professional realizations of our students."
The initial competition began in-house, with a script competition among Colorado Film School students to determine the best script. McSween and Dunn modeled "Peak of Terror" after movies like Jaws, which straddled the fence between terror and humor, yet still managed to develop complex characters.
They were allotted a $2,500 budget to complete the short that would be shown at the Stanley Hotel, a venue famous for hosting Stephen King while he authored "The Shining" and where King shot part of a mini-series following his dissatisfaction with Stanley Kubrick's movie treatment starring Jack Nicholson.
The CCA students, from start to finish, employed a crew of about 30 in production and post-production, including actors crew and editors, in sites all around Colorado, including Idaho Springs, Red Feather Lakes outside of Fort Collins, Keystone and Echo Lake Lodge at the foot of Mount Evans.
The biggest surprise to the two filmmakers was their anticipation of having to sell their short to industry insiders at the film festival. Instead, they found out as they were being announced as winners of the judge's prize that financing a full-fledged feature already was planned.
"The potential is just unbelievable," McSween said. "It's just surreal."
Added Dunn, "Essentially this is a best-case scenario for a short film. A lot of people don't realize the potential in short films you can make at the Colorado Film School. We have amazing resources at our disposal, and I feel like what we did is we wrote a short with room for a feature. We wrote a short that was maybe a little too big for its britches and its 20 minutes and executed it well."
One of the festival judges, Britta Erickson, director of the Starz Denver Film Festival, cited the sizzle reel's "outstanding production values, superb action and creepy animatronics," while adding that McSween and crew "clearly showed a mastery of the genre."
"It was kind of crazy when people that were just random festivalgoers would come up and say, 'Hey, your movie was the best thing I saw at the festival," McSween said.
There were 24 features and 22 shorts representing more than 15 countries screened at the competition in addition to the Stanley Dean's Cup competition. Panel discussions and special events augmented the independent horror cinema. Organizers are hoping that the Stanley Horror Film Festival grows to become a Sundance-type gathering for the horror genre but a premier student film festival.
A la a college football rivalry game, the judge's trophy will reside at Community College of Aurora for a year, until a new winner emerges.
Seeing the spoils of their victory on the daily basis at the Colorado Film School is fitting to both filmmakers, given the growth in their craft they've experienced during their time there.
"It's really challenged me to my very core and put me in really hard situations and made me excel," McSween said. "In terms of these projects, all of my success has to do with being (at CCA) and learning lessons. It's also put me in contact with really talented people in the field – true artists in the film world. And just being able to work with them, I've learned just so much. In terms of film, it's given me everything."
With more to come soon, if all falls right with the financial piece.
Dunn and McSween agreed without hesitation that one day, looking back, they'll view this moment at the Stanley Hotel as their career lucky break.
"It would be cool if they invited us back to be jurors," McSween said with a laugh.
###
About CCA
Community College of Aurora has campuses at CentreTech and Lowry in the greater Denver area. Equipped with the latest technologies, CCA allows students to study new and traditional programs, while also offering Colorado online classes and degrees. CCA's service community spans 325,000 people in a 350-square-mile area and CCA's student population reflects that diversity. The college provides lifelong educational opportunities, prepares the current and future workforce, and promotes excellence in teaching, learning and service.