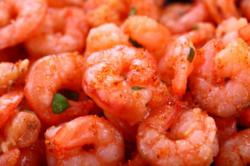 The fried shrimp is one of the recent additions announced at LeGrand's Steak and Seafood.
Jacksonville, Florida (PRWEB) February 10, 2013
North Florida is one of the best areas of the country for seafood lovers. The variety that is available has helped some restaurants to stand out compared to average chain restaurants. LeGrand's has recently been judged to have the best shrimp in Jacksonville by guest reviews.
The launch of the all you can eat shrimp dinner for $14.95 has help this restaurant to fill up its dining room on Wednesday nights. Dinner reservations can be made at this restaurant by calling (904) 268-3663.
The fried shrimp is one of the recent additions announced at LeGrand's Steak and Seafood. Since this restaurant serves a variety of food, specialty dinners are now permanently on the menu to help please all guests. The steak menu now includes five different steaks that can be cooked to any temperature requested by a guest. The New York strip, filet mignon, flat iron steak and prime rib are some of the most requested on the Signature LeGrand's menu.
Some guests who visit restaurants enjoy the entrees while others enjoy the sides that provide an alternative on the menu. Fresh sides and homemade desserts can be difficult to find when visiting some restaurants due to the limited amount of preparation time given to chefs before meals are served.
It is not uncommon for some restaurants to serve frozen foods in place of freshly prepared foods. LeGrand's currently has 11 specialty sides and multiple desserts that can be ordered any evening. These changes have been well received by guests.
Aside from the menu additions, the interior the dining room has received its own upgrades. The classic music from the 1950s and 1960s that is exclusive to this restaurant helps provide the peaceful atmosphere and family-friendly dining. These innovations now make it possible for a person of any age to have an enjoyable meal in North Florida.
Wedding receptions, private parties and other special events can now be booked directly through the management using the following information:
LeGrand's Steak and Seafood
11290 Old St. Augustine Road
Jacksonville, FL 32257
(904) 268-3663
marketing(at)legrandssteak(dot)com
About LeGrand's Steak and Seafood
LeGrand's Steak and Seafood has been a welcomed addition in Mandarin, Florida since its opening. As an alternative to banquets and buffet style restaurants, the expanded steak menu and seafood are cuisines exclusive to the local area. Guest satisfaction and food quality are are constantly monitored on a daily basis at this restaurant. LeGrand's Steak and Seafood has hired one of the best culinary staffs currently working in the food industry in Jacksonville. These professionals are partly responsible for the positive reviews received on a daily basis from guests who chooses restaurant over chain restaurants in the local area.