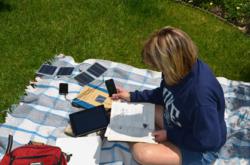 Students are always on the go, and need to have access to their smartphones at all times.
(PRWEB) May 01, 2012
JusCollege is proud to partner with SunTactics to offer portable solar chargers for college students at an affordable price. Students are always on the go, and need to have access to their smartphones at all times. Since students have a tight budget, SunTactics is offering a 20% discount on their solar charges which will be sold in JusCollege online marketplace alongside other college necessities.
JusCollege just launched their new website which is a campus specific guide and online marketplace that offers college discounts to students. Students can connect with hundreds of qualified businesses that offer products and services at a discounted price, anything from online food ordering to booking transportation can be done on the site. JusCollege not only connects students but also acts as a concierge to help students solve day to day problems like travel accommodations for example. "By combining technology and real life people who are looking out for students' best interests, we know we can better the college experience for students nationwide," says Andrew Citores, CEO of JusCollege.
"JusCollege is an exciting idea" says Dean Sala, SunTactics Founder and CEO "and we're excited to enter into this partnership to supply best in class solar chargers for personal devices to the educational community." JusCollege customers lead an active outdoors lifestyle. SunTactics sChargers can be used to directly charge their mobile phones even while in use and without having to first charge an external battery. Now active students need not worry about keeping their iPhones and personal devices charged. Simply take your sCharger with you – where's the sun, there's power for your phone!
SunTactics portable solar chargers are compact and open like a book when in use. They're lightweight and incredibly durable; designed to go anywhere. Anything you can charge through USB you can charge with SunTactics!
About JusCollege
JusCollege was started by Andrew Citores and Bo Thede in 2010. Andrew was running an entertainment company in Los Angeles that serviced college students and Bo was working for an online food ordering service at CU Boulder, they met up over winter break at the local burger spot they had frequented in high school. Andrew pitched Bo the idea of creating a one-stop shop for students and within a month they we're working on their new idea. JusCollege has already seen great success in 2011 and 2012 helping over 10,000 students. After 2 years of development and creating partnerships with hundreds of businesses, the new JusCollege launched April 26th, 2012 as the ultimate online marketplace, campus guide, and concierge service for students.
For more information, please visit http://www.juscollege.com
About Suntactics
Suntactics focuses on portable solar and off grid solar energy products. Their current product is a unique 5-watt handheld solar charger called the sCharger-5. This compact high power and durable solar power supply is being used by customers for a wide range of portable devices. Its simplicity in design makes it hassle-free and easy to use, just plug in your device and it starts charging instantly. The units are manufactured locally at Fastrak, a veteran owned contract manufacturer. Suntactics company and manufacturing offices are located in San Jose, Ca.
For more information, please visit http://www.suntactics.com