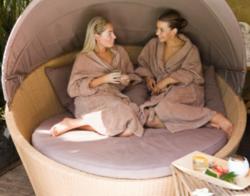 San Francisco, CA (PRWEB) May 14, 2013
Planning a girl's weekend getaway? Spahub.com, the largest online spa directory, has newly published top tips for the best locations for a girl's spa weekend away.
At some point, every woman looks for a break from her everyday grind – long day at work, clean the house, take care of the kids, and feed the family, and what better way to break away than going for a spa weekend away with the girls?
The following top 10 location tips provided by Spahub provide the best recommendations on a variation of places to take a break from the grind:
1. Green Mountain at Fox Run – Vermont: The Green Mountain Fox Run retreat is a women-only spa, and they work on helping shed those extra few pounds without heavy dieting. The haven provides fun exercise instruction, nutrition education, and healthy lifestyle training.
2. Regency Wellness Resort and Spa – FL: This spa focuses on health, wellness, and weight loss while offering visitors the opportunity to be beach bums.
3. The Oaks at Ojai – CA: Located in sunny state, this California spa is a superb choice for those who live in cold weather regions. This family owned spa offers everything from acupuncture to aromatherapy. If the girls just want to relax in a low-key setting, this is the perfect spa.
4. New Life Hiking Spa – VT: If being outdoors and enjoying nature while on a spa getaway is the type of things the girls love to do, then New Life Hiking Spa is ideal.
5. The Kerr House – Grand Rapids, MI: This spa getaway is unique because it allows guests to enjoy the scenery along the bank of the Maumee River in Grand Rapids.
6. Copperhead Retreat & Spa – NY: This spa is perfect for getting utterly relaxed and pampered. When not getting a facial and sipping wine, go for a hike and discover the beauty of nature in Shandaken, New York located in the heart of the Catskills.
7. Canyon Ranch – Tucson, AZ: With more than just beauty treatments, this Arizona spa is unique in that it allows the girls to explore life-skill classes, yoga, nutrition courses and preventative health classes.
8. Cal-a Vie Health Spa – San Diego, CA: This spa has a Mediterranean-like feel and is set up to promote overall wellness.
9. Birdwing Spa – MN: Birdwing Spa has an atmosphere and environment that makes anyone feel right at home. A large red barn greets guests upon arrival, and there are over 100 acres of land set up for different yoga classes and other spa treatments.
10. The Biggest Loser – Red Rock Canyon, UT: Located in the Red Rock Canyon of Utah, The Biggest Loser is one of the most affordable spa getaways. Other than the standard spa treatments, there are fitness gyms, cardio classes, and everything else needed to feel healthy and strong while spending time with the girlfriends.
With Spahub.com's expansive online spa directory and more informational resources on these top 10 spas (and more), visitors can find what they need to locate a spa in their local areas anywhere in the U.S. and Canada.
About Spahub
Spahub's mission is to create the largest Day, Medical and Getaway Spa Directory in the world. They strive to make the site a comprehensive place to learn about the different services spas provide. The goal is to provide every visitor an effective tool to quickly locate and explore a spa's amenities before taking one step out the door. For more information, please visit http://www.SpaHub.com.