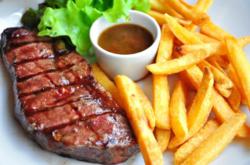 The warm response we're getting from the community is gratifying.
Jacksonville, Florida (PRWEB) January 20, 2013
LeGrand's Steak and Seafood Restaurant is now open for brunch, lunch and dinner. The newest location is just south of the downtown area of Jacksonville. More information can be found online at http://legrandssteakandseafood.com.
The quality of the food and family-friendly atmosphere has helped this restaurant to be named a best steakhouse in Jacksonville, FL by locals and online reviewers. With daily specials and choice cuts of steak available, individuals and families can now access this new location Monday to Sunday.
The latest data released online by the National Restaurant Association has revealed an upswing for restaurants able to provide cuisine other than what is found at typical fast food establishments. This data, revealed in the 2013 forecast, expects more than a 3.8 increase to 660 billion this year in total national sales. The forecast included that 70 percent of the citizens surveyed reported that they plan to eat healthier than they did 24 months ago.
"The warm response we're getting from the community is gratifying," said Ron LeGrand, restaurant manager at LeGrand's. "We work hard to deliver exceptional food and build a warm, friendly environment for our guests," LeGrand added.
The steakhouse menu now at Legrand's includes healthy dining options for men, women and children. The growing menu of soups, sides and salads is offering many choices for those selecting healthier food options. The produce used to create the salad menu is obtained locally to provide fresh food to every guest. These healthy options combined with the Signature LeGrand menu items remain popular choices for guests who visit this restaurant on a regular basis.
The cuts of meat that are now selected and served to guests at LeGrand's provides one of the best values in the Jacksonville area. The range of choice cuts of meat are 8 ounce, 10 ounce and 12 ounce to provide the right size for each entree. The steak temperatures are upgraded to include any cooking style that a guest prefers to offer the most enjoyment out of these cuts of meat. This method of cooking provides an alternative to some restaurants that do not allow variance in temperatures.
Individuals or families who are searching for a unique and family-friendly atmosphere could explore the new menu options at LeGrand's. For media inquiries or information, all requests can be sent to Tish Hill at:
LeGrand's Steak and Seafood Restaurant
11290 Old St. Augustine Road
Jacksonville, FL 32257
(904) 268-3663
About LeGrand's Steak and Seafood
LeGrand's Steak and Seafood provides a relaxing and memorable dining experience for brunch, lunch or dinner to guests living in or visiting the Jacksonville-Mandarin area. With warm and inviting decor, this family-friendly company serves fresh food seven days a week. By designing a menu of the top seafood and steak items, all guests who frequent this restaurant are able to have a pleasant dining experience. From the steakhouse menu to the signature items, LeGrand's Steak and Seafood Restaurant has achieved media attention in the local area for its culinary excellence and affordable prices.