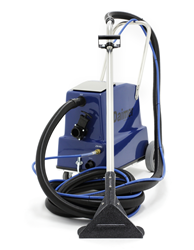 Daimer® is delighted to offer its XTreme Power® XPH-5800T, a powerful commercial carpet steam cleaner with unrivaled 170 psi pressure, high temperatures, low flow technology, and drying times of within merely two hours. Homeowners can truly achieve ...
Woburn, MA (PRWEB) December 20, 2012
Daimer Industries, Inc.®, the world's leading American brand of commercial cleaning equipment, including exclusive carpet cleaning machines,high temperature carpet steam cleaners, truck mount carpet cleaners, and commercial carpet extractor equipment numbering over 700 models shipped to hundreds of countries, is debuting its XTreme Power® XPH-5800T for homeowners and apartment dwellers.
The company's equipment generates temperatures up to 150ºF within only 15 minutes, and includes Daimer®'s patented XTreme-XTraction™ wand technology. This proprietary tool took over a year to perfect, and creates 60% more section, equivalent to that of another vacuum motor. XTreme-XTraction™ forms a constant seal with the carpet while the head glides over the carpeting for enhanced cleaning. Better extraction results in even faster drying times.
The XPH-5800T's Adjustable Temperature Control™ technology included with the machine allows users to adjust the temperature flow as desired, depending upon the application or carpet fiber content. Carpets made of natural fibers, such as wool, may get damaged by higher temperatures, so users should refrain from enabling heat while cleaning such carpets. Man-made materials can be cleaned using heat, which is turned on by easy accessible switches on the rear of the system.
"The look of any apartment or home can be completely spoiled by dirty carpets, especially if they are lighter in color. Often times, people who had previously hired cleaning professionals are now opting to purchase their own carpet cleaners. Most low-grade machines sold on the web are just vacuum cleaning machines and do not feature advanced technologies for professional cleaning," says Matthew Baratta, spokesman of Daimer Industries, Inc.®. "Daimer® is delighted to offer its XTreme Power® XPH-5800T, a powerful commercial carpet steam cleaner with unrivaled 170 psi pressure, high temperatures, low flow technology, and drying times of within merely two hours. Homeowners can truly achieve similar results as if they use a pro."
The pressure-packed carpet shampooer machine is lighter in weight than many of the larger capacity machines, yet packs a similar "punch" with respect to pressure and cleaning power. The XTreme Power® XPH-5800T is compact enough to be transported up and down stairs as well as fit within an SUV or car. The commercial carpet cleaners feature 25' long hoses to easily clean stairs in apartments or homes. The extra long hoses help users clean a radius of up to 2000 sq. ft. without actually needing to move the equipment. Longer hoses also allow operators to clean most staircases, either from the higher or lower floor level.
Daimer® offers as optional with all of its professional carpet cleaner machines a highly popular four inch tool for cleaning stairs and furniture. The wand is also used exclusively by professional auto detailing people for car cleaning, namely, fabric upholstery and carpeting.
Carpets account for more than 70 percent of all flooring sales in the modern world for bedrooms, living rooms, dining area, and others. Carpeted floors are seen practically everywhere. However, carpets generally contain fungi, dust mites, pet dander, pollen, skin cells, ticks and fleas if pets are present, as well as even bed bugs. Also, hundreds of viruses can actually live in the carpets for a long time. Unfortunately, these bacteria and viruses can trigger allergies in elderly, children, and pets.
The XTreme Power® XPH-5800T carpet steam cleaners from Daimer® generate temperatures that are powerful enough to clean carpeting efficiently, effectively and with less water for truly green cleaning. Low drying times of up to two hours make these carpet cleaning machines ideal for residential and commercial use.
Daimer®'s commercial carpet cleaners feature company's outstanding low flow technology that reduces water usage and minimizes drying time. The machine produces greater cleaning power, but yet eliminate the risk of mold formation, which generally occurs when operators use higher flow machines and technologies that soak the carpet padding.
During promotions the company offers two free gallons of its exclusive Eco-Green® Carpet Care and Upholstery cleaner solution with each of its carpet cleaners. Two gallons form up to 64 gallons of soap-free, plant-based, ready-to-use liquid, and will clean up to 64,000 square feet. Eco-Green® extracts immediately during extraction and will not negatively affect those with allergies, asthma, chemical sensitivities, COPD or others with compromised immune system. In addition, the solution will not create allergies as well.
For Additional Information:
To discover more of the benefits of the XTreme Power® XPH-5800T carpet cleaners and van truck mount carpet cleaning equipment, visit Daimer®'s website or telephone Matthew Baratta at (888) 507-2220. The machines are marketed worldwide to most countries.
About Daimer Industries, Inc.®:
Daimer Industries, Inc.® is the world's leader in advanced carpet cleaning equipment, including truck mount carpet cleaners, vapor steam vacuum cleaner machines, tile and grout cleaners, industrial water damage restoration equipment, pressure wash systems, floor steam cleaners, floor and hard surface machines, and gum removal systems for most applications and industries, along with exclusive and patented technologies.