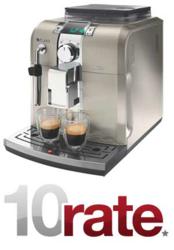 10rate spent some time researching and trying out some of the expensive but beautiful super automatic coffee makers on the market
(PRWEB) January 07, 2012
Editors from 10rate spent some time researching and trying out some of the expensive but beautiful super automatic coffee makers on the market and rated them based on the following criteria:
1. Varied programming options
2. Intuitive controls and a display screen
4. Easy-to-clean parts and automatic cleaning cycles
5. Quick heat-up and steam
6. Relatively quiet grinding
7. One-touch controls for espressos, lattes, cappuccinos, macchiatos, etc.
The annual 2012 Top 10 Best Super Automatic Coffee Makers awards list was topped by the Saeco Xelsis SS winning the top quality spot and a 9.5 rating. The review noted several strengths of the maker including the following excerpt, "The steaming wand is another handy feature, producing extra-hot drinks with its dedicated boiler. While this is a large and quite expensive machine at $2,993.30, its fast controls and microfoam capabilities make this model stand apart from the rest."
The best value machine as rated by the authors was the DeLonghi ECAM 23210B which editors noted is strong in many areas such as the following:
"Compact size doesn't sacrifice coffee quality or programming features
Water tank includes a filtration system for the freshest water
Automatically shuts off after 3 hours to save energy
Transparent 1.7-liter water tank
Easy to clean the removable hopper and drip tray
Intuitive controls
Next, the best budget award from the Super Automatic Coffee Maker Reviews was the Jura-Capresso 13421. Notations from the review of this maker comment, "We like having control over the coffee temperature and strength, and all through a simple rotary dial. For $719, this coffee maker produces thick, rich drinks quickly." While $719 might not seem like a great price on a coffee maker, it is on a super automatic coffee maker.
Delonghi was the only company in the Coffee Maker Ratings that was listed twice. The top price among these products was listed at $2999 while the lowest priced unit was $719.
10rate.com conducts reviews in various product and services categories and publishes "Expert Top 10 Lists for Everything in your life." The company's web site strives to "Make it Easy" to select from the hundreds of choices there are in the product and service market place. All products and services are thoroughly researched by the companies expert editors prior to receiving a rating on a 1-10 scale. In addition to product reviews the companies editors write guidelines, buying guides and articles on various topics surrounding each product or service category covered to help educate the consumer.
###