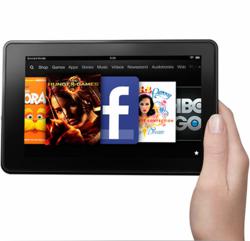 This helpful consumer information is written for men and women that are holding out to find the perfect electronic device.
Baltimore, Maryland (PRWEB) December 08, 2012
HTMH Online has released its best holiday deals for tablets price guide. This helpful consumer information is written for men and women that are holding out to find the perfect electronic device as a personal gift or one to give out. A survey of retailers are reported in this new price guide and both pricing and stock information is provided. The guide reveals that some retailers have discounts of nearly 48 for the remaining Christmas stock.
The Kindle Fire was released in September and quickly sold out before some retailers could stock it in time for Black Friday. Amazon reported this unit was its most gifted item for the holiday season. The HTMH Online guide now reveals that this unit could go on sale before the season is over.
The increased memory, faster performance and compact size are some of the changes that Amazon has made to these tablets. The Kindle Fire 7" is currently isted in stock online and the price is expected to be discounted to help buyers purchase this gift for a better price.
Samsung has developed its line of electronics to be one of the competitors on the heels of Apple and Amazon. The Samsung Galaxy Tab 2 is now competing for sales worldwide and some U.S. inventories online have started to decrease according to the review and pricing guide.
The addition of Bluetooth, expandable storage space and a Ghz processor has helped the Samsung Galaxy Tab 2 to gain recognition with buyers online. While some larger sellers like Amazon are listed as sold out of these tablets, this retailer online has this edition for a discount lower than the standard retail price.
Google has entered the tablet industry with the hope of forging ahead to dominate worldwide sales. The creation of its Google Nexus 7 Tablet has helped this company to get noticed online to help create demand. The Nexus 7 has arrived in time for the holidays and a variety of pricing exists according to the pricing guide released. 
The retail list price as displayed by retailers that still have this Asus produced device in stock is $299. The Google Nexus 7 Tablet was found online for the basis of the new pricing guide at a 25 percent discount. While many have this as limited supply, some retailers are closing out stock for Christmas. 
Coby is a discount manufacturer of televisions, DVD players and other common electronics. This company has now entered into the tablets market to provide a low cost alternative to some of the more expensive units available. While things like HD resolution and increased Wi-Fi are absent from the Coby Kyros 7-Inch, this unit was found to have many top features.
A sizable storage drive, adequate memory and downloadable apps have helped to make this tablet series an alternative. The HTHM Online pricing guide revealed that the lowest price found online is currently 48 percent off the list price. This price drop is strictly for Christmas and makes this device one of the only available for under $100.
Information is expected to be added to the originally published guide that pertains to discounts, out of stock messages and Christmas delivery schedules to ensure that men and women can find a suitable tablet for a gift online.
About HTMH Online
The HTMH Online company offers consumer reviews and business training information as separate parts of this business. First launched online in 2009, this website has grown into one of the largest resources online for consumer news and information for online shoppers. By researching the latest trends, the HTMH Online staff is able to deliver some of the most compelling retail information to help locate patterns in price and inventory to contribute to the decisions that buyers make as Internet-only shoppers.