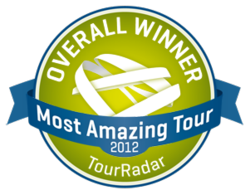 We think we can give people a better travel experience in Thailand than anybody else.
Calgary, AB (PRWEB) September 15, 2012
Free & Easy Traveler, an epic adventure travel company, has announced it was awarded the title for The Most Amazing Tour. From August 6 to September 5, TourRadar: the social platform for organized group tours, hosted a contest on Facebook to see which company offered The Most Amazing Tour. On September 12, TourRadar announced that the winner of the contest was a Canadian adventure-travel company named Free & Easy Traveler. Their 40-day trip to Thailand, entitled Experience the Land of Smiles, was awarded the title of The Most Amazing Tour, beating out over 8500 other trips offered by some of the largest travel companies in the world.
Rob Campbell, Head of Operations for Free & Easy Traveler, credited the achievement to the amazing dedication the company gets from their travellers. "When people come on a Free & Easy trip, their experience with us doesn't end when the trip is over," says Campbell, "whether it's through social media, events back in Canada or just afternoon beers, we enjoy maintaining a relationship with all of the people that travel with us."
TourRadar ran the contest through Facebook and gave every travel company a chance to enter and one month to see how much activity each of their trips could garner on the contest's App. Campbell says they weren't as surprised as people might think after beating out companies with a much longer history and larger budget. "The 40-day Thailand trip is our trip, we've been running it for a decade. We created it, perfected it and built our company around it. We think we can give people a better travel experience in Thailand than anybody else." And it was clear that many people agreed with Campbell's statement when TourRadar released the results and to some's surprise, a small company from Canada was awarded The World's Most Amazing Tour.
Free & Easy Traveler is an adventure travel company founded in 2001 and based out of Calgary, Alberta, that runs intimate group backpacking trips for 18 - 29 year olds to 11 different countries in Southeast Asia, Europe and Central America.
For more info on Free & Easy Traveler, visit their website: http://www.freeandeasytraveler.com/
To view the TourRadar contest, visit: http://www.tourradar.com/mostamazingtour/2012_winners#overall
About Free & Easy Traveler:
Free & Easy Traveler has created a new genre of adventure travel by mixing structure with ultimate flexibility in a group setting. They have been operating as a successful adventure tour operator since 2001. Free & Easy currently runs trips to some of the most exotic and amazing places on the earth, including adventure travel in Thailand, the Philippines, Laos, Cambodia, Vietnam, Indonesia, Nicaragua, Panama, Costa Rica, Greece & Turkey. Their trips are 10 - 140 days in length and provide you with the time to dive into each destination and really experience a different way of travel, life and adventure. Free & Easy Traveler is rooted in Western Canada but has worldwide branches.