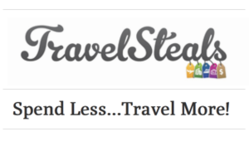 We're the premier destination for travelers looking to find deals on Central American vacations. Being flexible allows our customers to save tons of money by staying up-to-date with current promotions.
Reston, VA (PRWEB) December 25, 2012
Travelsteals.com has worked hard to earn its status as one of the leading travel deal flash sale aggregators on the Internet. Features such as daily emails and daily deals have made it much easier for travelers to find great bargains on their favorite travel destinations.
Recently however, Travelsteals.com has taken it up a notch. Travelsteals.com knows that their reader's time is valuable and has recently taken steps to reduce the amount of time travelers have to spend searching through their great deals.
For instance, Travelsteals.com's web development team has fully integrated categorization into their website. This gives readers the ability to search through travel deals based off of a chosen destination.
This means that a person searching for South American vacation deals won't have to search through domestic travel deals. They can simply click on the South American vacation category and they'll instantly be taken to page after page of deals on South American vacations.
Users have found that this has dramatically reduced the amount of time it takes them to find the vacation package they want. This means they can spend less time worrying about finding a great deal on a five star hotel and more time planning out all of the fun activities they'll do once they reach South America.
It isn't just South American vacation deals that are categorized either. Travelsteals.com's visitors can search through a wide variety of categories to find deals in all locations. Looking to go on a Central American vacation? Simply click on the Central America category on Travelsteals.com's website and you'll be able to quickly and easily find the best travel deals on Central American vacations.
New visitors to Travelsteals.com should also keep in mind that the new categorizations aren't the only benefits they can receive by visiting the site. Travelsteals.com only places the best travel flash deals on their website. They reject poorly updated websites and only list the sites that offer real value to their visitors. This means you won't have to waste time wading through page after page of weak discounts.
In fact, Travelsteals.com's visitors can expect to save up to 80% on their next vacation. This is a dramatic price decrease that you won't find anywhere else.
To learn more about the new categorizations, please visit Travelsteals.com. Once there, click on your favorite vacation destinations and book the vacation you've been dreaming about.
###