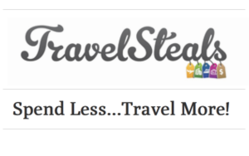 These travel flash sale sites aren't helping us much and we're providing a great service. It helps consumers find great deals and gets companies free exposure.
Reston, VA (PRWEB) February 17, 2013
TravelSteals.com prides itself on offering up daily deals to avid travel fans. Their website has a daily deals feature, a daily emails feature, and a category system which gives visitors the ability to quickly find the deals in the locations they want to travel to.
TravelSteals.com has long been considered one of the best places to go to find travel deals on both exotic and domestic vacations. Recently however, TravelSteals.com has found that many travel deal websites are not offering the daily deals they should be.
TravelSteals.com is now putting pressure on the leading travel deal websites to submit feeds with daily deals. The experts at TravelSteals.com know that avid travelers do daily searches for the best deals and expect to find new deals on a daily basis. With this in mind, TravelSteals.com has started placing top travel deal websites who offer daily travel deal feeds on South America travel, domestic travel, and European travel. They are also aggregating daily deal feeds that offer up exotic vacation packages as well.
Many travelers feel the world really is their oyster and long to see the entire thing before they pass on. These travelers frequent the daily deals section of TravelSteals.com and jump on great deals as soon as they see them. This type of traveler tends to save a lot of money and is able to see many different parts of the world each year.
Other travelers just want to get the full American experience. The United States is a big and diverse country and these folks make use of the USA travel deals in TravelSteals.com's daily deal feeds to help them explore the country.
While many travelers like to come to the website to search through the daily deals, some just don't have the time. These travelers have instead opted to receive daily deal emails which they receive in their email inboxes each day. The best daily deal feeds TravelSteals.com has secured are all placed into one email and sent off for busy travelers to take a look at in their spare time.
As TravelSteals.com persuades more and more travel deal flash sites to offer more daily flash deals, travelers will find even more deals to look through each day. This will further entice travel websites to offer even more deals and TravelSteals.com will be able to provide even more value to its visitors.
To search through TravelSteals.com's current daily deals, visit their website.