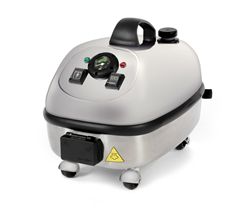 Daimer® is delighted to present in its KleenJet® Pro Plus 300CS the industry's most reliable and advanced portable steam cleaner, which is an essential piece of any detailer's car wash equipment. The model offers patented technologies...
Woburn, MA (PRWEB) December 21, 2012
Daimer Industries, Inc.®, the industry's most reputable American brand of advanced commercial and industrial grade cleaning equipment, including patented industrial steam cleaner equipment, proprietary steam cleaner machines, virtually indestructible truck mount carpet cleaning equipment, technologically robust commercial carpet steam cleaner systems with over 700 models, and a global customer base spanning all continents and in excess of 200 nations, is debuting the KleenJet® Pro Plus 300CS to auto detailing pros globally.
The 100% stainless steel, high-quality vapor systems heat within approximately only seven minutes, emit adjustable pressure levels up to 75 psi, and come equipped with superior features that can help remove some of the hardest-to-clean build-up from hard surface interiors. Detailers can use the machines for use within all types of transportation vehicles, including cars, trucks, and others.
"Quality of cleaning, versatility, and toughness are factors that auto detailers require in their commercial steam cleaner equipment for the enhanced cleaning tasks each and every day. The machines should also be able to handle the most difficult jobs with ease," says Matthew Baratta, Daimer Industries, Inc.® spokesman. "Daimer® is delighted to present in its KleenJet® Pro Plus 300CS the industry's most reliable and advanced portable steam cleaner, which is an essential piece of any detailer's car wash equipment. The model offers patented technologies along with high vapor cleaning power to handle a variety of applications, including car detailing. The combination of hot steam and high pressure levels, exclusive technologies makes it one of the best steam cleaners on the market."
Robust construction and other salient features make the KleenJet® Pro Plus 300CS mobile steam cleaner a better choice than conventional vapor steam cleaner machines. The canister-based system can easily withstand rough auto detailing applications, as its boiler, housing, and other parts are built completely from solid stainless steel. The exterior casing of the vapor steamer is composed of only the highest caliber stainless, which offers the best durability versus other inferior materials.
Often times, auto detailing staffs experience significant problems removing tough build-up from hard surfaces within the cars. Reduced productivity can dramatically negatively impact car turnover. Time is money and the inability to maximize the number of cars cleaned during a given day will reduce profits. Cleaning professionals resort to brushes and chemicals to manually clean the car interiors. As a result, the whole process becomes time-consuming, the chances of manual damage become high, and the cleaning results are inferior.
Opting for outstanding multipurpose steam cleaning systems is beneficial for car detailing professionals, as the machines eliminate the need to use harsh chemicals. The latest machine from Daimer® can efficiently most surfaces with ease. Cleaning dashboards, door jambs, windshields and windows, leather and vinyl seats, rubber floor mats, door panels, and even vents is easier than ever before.
Daimer®'s KleenJet® Pro Plus 300CS is a steam cleaning system that features all the qualities required to take a car detailing and car wash business to new heights. High temperatures up to 310°F quickly soften and remove some of the most difficult grease, oil, food, and dirt build-up on vehicle interiors. The commercial steam cleaner generates pressure levels as high as 75 psi, ensuring outstanding cleaning without damaging the surfaces like destructive cleaning techniques and technologies currently on the market.
The company includes within each of its Continuous Refill models its exclusive Advanced Scale Reduction™ and Self-Cleaning™ features within the boilers to prevent mineral formation and scale build-up, which can be detrimental to an ordinary vapor machine offered by other brands. A vibrating floater mechanism literally shakes off scale, keeping the boiler cleaner, and thus maximizing the boiler's internal temperature and pressure levels. The result is optimum system functioning for the best cleaning results.
The Pro Plus 300CS innovative vapor steam cleaner system comes with a Daimer®'s patented, detachable heating elements. In the very rare case an element needs replacement, the whole boiler need not be replaced as is the case with other brands in the industry. Some brands offer machines with heating elements permanently welded within the boilers, making the replacement of heating element completely impossible. Replacing a boiler from other brands can cost more than $800.00, similar to the price of a complete machine replacement. Daimer®'s rugged heating elements cost a mere fraction of the price of others' boilers.
The Daimer®'s KleenJet® Pro Plus 300CS is available with a variety of accessories, including steam squeegee, an assortment of detail brushes, microfiber towel, rectangular floor brush, and detachable steam hose. These accessories are designed to handle an array of cleaning applications. Customers buying online during the company's special promotions receive free products.
For Additional Information:
For more details about the KleenJet® Pro Plus 300CS, industrial pressure washers, popular carpet cleaning machines, or other products within the company's extensive line visit Daimer®'s website, or call Matthew Baratta at (888) 507-2220. The steam cleaning equipment is shipped worldwide.
About Daimer Industries, Inc.®:
Daimer Industries, Inc.® is the internationally-renowned leader of superior cleaning systems, such as superior steam vacuum cleaner equipment, various steam cleaners for carpets, commercial carpet extractor systems, industrial steam cleaner equipment, vapor steamer systems, pressure cleaners, floor cleaners, carpet steam cleaner machines, and many other categories of cleaning machines for practically all global industries and applications, including tile and grout cleaning, exhaust hood cleaning, graffiti removal, chewing gum removal, and virtually countless others.