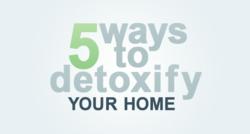 Chicago, IL (PRWEB) June 13, 2013
The gradual and continuous trend towards greener and more natural products is leading many people to seek out ways of detoxifying living spaces. However, the list of green products proves virtually endless and it can difficult to know where to start, or how to make the biggest impact with limited resources. The Mattress Geek offers some helpful tips for getting started in their latest article, "5 Best Ways to Detox Your Home: Healthy Mattress Tips & More".
This guide offers a perspective likely to appeal to a broader audience by focusing on gradual changes and those that have the potential to make the biggest impact on health. Rather than stressing the necessity of replacing everything immediately, The Mattress Geek offers helpful tips for choosing new products as conventional ones wear out or run out. The five areas of focus in the article involve choosing a healthy mattress as well as recommendations for cleaning products, bath and body products, air fresheners, and remodeling products.
The first topic covered in the article is on how to choose a healthy mattress. Because people spend about one-third of the day in bed and many chemicals found in mattresses can be harmful, the article gives this product priority. Of greatest concern according to The Mattress Geek, are PBDE's, brominated flame retardants, chlorofluorocarbons, phthalates, and other volatile organic compounds (VOCs). Suggested alternatives include all natural latex mattresses, certified non-toxic plant-based foams, wool and cotton.
Chemicals of concern in household cleaners and bath and body products comprise the next two areas of greatest concern. The article suggests taking a specific look at aerosol sprays and polishes, laundry detergents, fabric softeners, and corrosive cleaners, and mentions natural solutions and alternatives for do-it-yourselfers. As far as personal care products, The Mattress Geek identifies the three biggest offenders as antibacterial additive triclosan, paraben preservatives, and sodium laureth/lauryl sulfate cleansers.
The article also explains hazards of conventional air freshener and scent products, suggesting several natural alternatives. The final section offers tips on top considerations when remodeling. While the article does not recommend tearing out and replacing items solely for detoxification, they suggest seeking out low-VOC paints, carpeting, and furnishings when they are in need of replacement.
As readers seek to incorporate greener and healthier items into their homes, The Mattress Geek reiterates the importance of researching ingredients and understanding labels. One website, the Environmental Working Group, is recommended as a good resource for researching and understanding risks of chemicals in personal care and home products. For those considering a greener home, The Mattress Geek's tips offer helpful information on how to start without resorting to drastic measures.
The-Mattress-Geek.com researches mattresses and bedding products to provide consumers with reliable information. With a focus on facts and accuracy, the website provides detailed buying guides, answers frequently asked questions, and delves into topics of importance to shoppers.