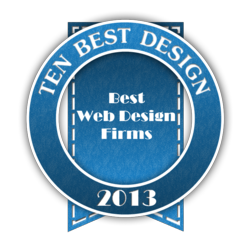 [10 Best Desgin] has now released the winners of their Best Web Designs Awards of 2012 across 12 major categories.
San Diego, California (PRWEB) January 31, 2013
10 Best Design (10BD) has been growing in both popularity and notoriety. The organization first began as a rankings site for the best web design agencies, but has now released the winners of their Best Web Designs Awards of 2012 across 12 major categories.
Since the web design awards team first started, 10 Best Design's web traffic has grown at an astounding compounded monthly rate of roughly 50%. Until recently, their rankings have been restricted to the solely awarding the Best Web Design Firms. They have now released a limited amount of awards for specific website designs in a number of categories.
10BD's Web Design Awards Categories Include:

Best Architecture Web Designs
Best Automotive Web Designs
Best Blog Web Designs
Best eCommerce Web Designs
Best Music & Entertainment Web Designs
Best Fashion Web Designs
Best Food & Beverage Web Designs
Best Medical & Biotech Web Designs
Best Nonprofit Web Designs
Best Travel Web Designs
Best Miscellaneous Web Designs
10 Best Design's winners were awarded based on variables such as color balance, use of modern techniques, & implementation of design - to name a few.
Notable winners include Twizgrid, a new mobile app, which allows users search and sift through the ever-growing number of photographs uploaded to Twitter. Twizgrid's design is stunning, and its functionality is extremely intuitive. From its layout to its quirky logo, this application exemplifies excellence in design.
In the Best eCommerce Web Design Awards Category, Shop Shoe Guru designed by Threefifty Digital Agency received the number one position. When the site was built, the design team dealt with branding, web design & development, implementation of an e-commerce platform, conversion optimization, photography & post-production strategy among many other activities. Shop Shoe Guru has a minimalist design with a mysterious undertone.
The #1 Best Travel Web Design Award went to Wanderfly. This website, which was built by the company's in-house team, was created under the belief that no two people plan the same trip. Wanderfly allows users to search and discover personalized travel recommendations. It has a unique layout with large graphics and an intriguing social media aspect.
To compete in on 10 Best Design in 2013, enter your best web design awards submission.