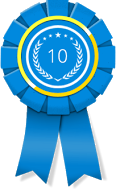 NEW YORK, N.Y. (PRWEB) April 20, 2017
10 Best Design recently announced the winners of its Best Web Design Firm awards, with Big Drop Inc being ranked in the top position.
10 Best Design regularly honors firms that have demonstrated a high proficiency in creating responsive, engaging websites that help businesses expand their presence on the Internet. The firms receiving an award are evaluated according to a detailed process which rewards technical proficiency, customer satisfaction, and attention to a client's individual needs.
The awards presented by 10 Best Design are designed to reward firms for their excellence, but they are also given as a benchmark that will help prospective clients select a firm that will provide outstanding service in their field. When a firm receives one of these awards, it is indicative of the fact that the firm comes highly recommended and enjoys great respect in the web design industry.
Big Drop Inc. is among the most recent honorees, taking the top position in this category.Big Drop Inc, a leading web design firm based in New York City, specializes in capitalizing on the most recent trends in web design. As a best website design business, Big Drop Inc. works personally with its clients to develop user-friendly websites that are geared to increase sales. Former clients of this firm include Samsung and TopRank.
Another award winner on April's list of best website design businesses is Blue Fountain Media. Also based in New York, this firm has won many other industry awards. Blue Fountain Media excels because it employs some of the top web design professionals in the industry. Each website created by this company is designed to be cutting-edge and highly responsive.
Ruckus Marketing, a top website design business also based in New York, rounds out the latest award winners from 10 Best Design. This firm serves large corporations as well as small start-ups with their web design needs. Ruckus Marketing specializes in brand building and social media integration to help its clients succeed.
Each month, 10 Best Design is recognizing the best web design firms throughout the world with these new awards. The face of web design is constantly changing, and the monthly awards reflect those who are presently succeeding at a high level.
For more details about the winning companies, visit http://www.10bestdesign.com.