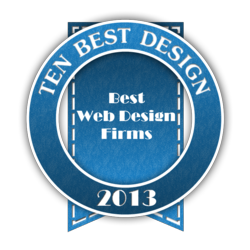 [10 Best Design] has announced a new promotion which will allow web design firms to submit to their prestigious awards at no cost.
San Diego, California (PRWEB) February 27, 2013
The web design firm awards organization, 10 Best Design (10BD), started off 2013 the wind at their heels. The company's site had been growing in traffic at a compounded rate of more than 45% per month over the last quarterly period, and their awards' esteem has been maturing along side. To thank their user base for the support, the 10BD team has announced a new promotion which allows web design firms to submit to the prestigious 10 Best Design awards at no cost (on a limited basis).
Over the past year, 10BestDesign.com has blazed a path on search engines which has landed pages of their site atop the likes of Google and Bing for keyword phrases like "Best Web Design Firms," "Best Web Development Companies," & "Best Design."
The announcement of this limited time promotion comes as this organization undergoes a significant restructuring.
10 Best Design is currently in the process of compiling awards for the best category specific web design firms.
"In 2013, we will be releasing awards for firms who specialize in categories like e-commerce, food & beverage, and nonprofit web design," says a 10 Best Design representative.
These new awards are aimed at helping individuals or companies who are seeking web design or web development services in a specific industry. Once these awards are available, car companies and dealerships will be able to view the top automotive web design firms, local stores looking for an online marketplace will be able to access the best e-commerce web designers, and those with the next great idea for the iPhone, Android, or other Smartphone will be able to find the world's most acclaimed mobile app designers.
To take advantage of 10 Best Design's new promotion, submit your web design firm.