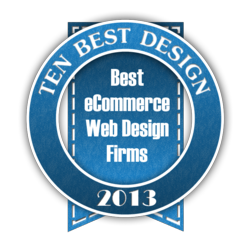 San Diego, California (PRWEB) June 04, 2013
10 Best Design (10BD) was originally a concoction of the recognition that web designers were not living up the capabilities of modern web technologies and the desire to reconcile that exact disparity. 10 Best Design founders were aggravated by the fact that Web2.0 and HTML5 gave the web design industry the ability to produce amazing pieces of web art for their clients, but what even many of the biggest web design firms were producing was formulaic and outdated websites. The 10 Best Design organization set out to identify companies who could produce sites of superior quality and advanced functionality. These awards quickly became recognized as the premier destination for web development rankings, and today, they release the second iteration of their illustrious eCommerce Web Design Companies Awards.
The awards for the Best eCommerce Web Design Firms first came out last month. The goal of 10 Best Design's categorical awards is to aid searchers of web design services find the top providers for the exact industry they work in. Today, these awards range from architecture to ecommerce web design companies.
This month, the #1 Best eCommerce Web Design Firm is Pure Imagination. Pure Imagination believes in focusing on ROI, and they utilize proprietary systems to ensure a streamlined web development process. This company, based in Batlavia, Illinois – just outside of Chicago, takes a unique approach and strives for maximum return on marketing activities. Pure Imagination's primary priority is producing exceptional results, and this is why they have been selected as the top ecommerce agency of the month.
Coming in the second position on 10 Best Design's eCommerce Web Design awards is Hudson Horizons. Hudson Horizons has in fact been awarded as a top provider of ecommerce services in the past. Their team knows that high-quality consistency breeds success when it comes to selling online. Their ability to produce quality designs backed with user-friendly applications has allowed them to remain among 10BD's best ecommerce web design firms. Hudson Horizons is based in Saddle Brook, New Jersey and has received a number of recognitions from reputable organizations since their creation in 2003.
Following not far behind is Vento Solutions as the #3 Best eCommerce Web Design Firm. Vento has been ranked well by 10 Best Design since early 2012, winning awards as the best overall web design firm on several occasions. Vento Solutions is a highly innovative web design firm which works in a wide number of industries. They have been involved with programmatically complex applications in the healthcare industry, as well as a number of stunning ecommerce websites, and the skill level of their programmers is unparalleled. Vento Solutions is based in New York City with a satellite office for search engine optimization and online marketing in San Francisco.
The complete list of the Best eCommerce Web Design Companies Awards is as follows:
1.) Pure Imagination (Batavia, Illinois)
2.) Hudson Horizions (Saddle Brook, New Jersey)
3.) Vento Solutions (New York, New York & San Francisco)
4.) Cazarin Interactive (Minneapolis, Minnesota)
5.) Border7 Design Studios (Simi Valley, California)
6.) RazorIT (Syracuse, New York)
7.) Cofa Media (San Diego & Los Angeles, California)
8.) Skuba Design (New Orleans, Louisiana)
9.) ScriptiLabs (Austin, Texas)
10.) Simple Flame (Saint Charles, Missouri)