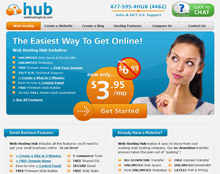 WebHostingHub is great for individual freelancers and small business.
San Francisco, CA (PRWEB) March 12, 2012
Today, HostUCan.com announces the best hosting deal of week March 11, 2012 in which WebHostingHub is named for their 43% off on the shared hosting solution.
The regular price from WebHostingHub is $6.95/month, but through special discount link offered by them, all the new customers could sign up their service at $3.95/month, which is around 43% off compared with the list price.
HostUCan list out 6 reasons why they name Webhostinghub 43% off as the best web hosting deal in this week, and below are some of them:

First of all, it's really rare that a web host would like to offer their customers a 43% off, even in this recession period.
Anytime Money Back Guarantee
WebHostingHub guarantee 90 days full money back and prorated refund after the first 90 days. This is the best money back terms in the industry. Working with WebHostingHub means putting the money in safe.
WebHostingHub uptime is more than 99.9%. HostUCan website monitoring system shows a 99.95% uptime in average for the past 12 months.
100% Customer Satisfaction
100% customer satisfaction is the goal of WebHostingHub. And 80 WebHostingHub customers reviews HostUCan have collected show that 93% of their customers would like to recommend WebHostingHub to their friends.
WebHostingHub offer 1 free domain and many unlimited features in their hosting package, such as unlimited monthly transfer, unlimited disk space, unlimited MySQL database, unlimited FTP account, unlimited emails and host unlimited domains in one account. All above will free their customers of worrying about the limitation of web server.
WebHostingHub have 2 data centers, one on the West Coast and one on the East Coast. Their new customers will automatically be routed to the one close to their location for better access speed.
Besides this, WebHostingHub use 100% Dell server with 16 -24 Xeon Cores, 16GB-24GB memory and RAID 10 fast storage, which is much faster than what their competitors offer.
HostUCan also explain what people could use WebHostingHub for, in which they recommend WebHostingHub for individuals freelancer and small businesses.
To know more about Webhostinghub, please check out HostUCan 360 Degree WebHostingHub Review.
About HostUCan.com
HostUCan.com is a need-centric web hosting search and review platform. Their powerful products search engine could help webmasters find the best hosting solutions based on their hosting needs. HostUCan is also a place for webmasters to share their hosting experience and to seek information from other experts.