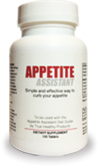 One of the best weight loss diet programs is not offering their balanced nutrition eating guide for free from nutrition and weight loss products company, True Healthy Products.
(PRWEB) April 14, 2012
Nutrition and diet products company, True Healthy Products recently released a new appetite suppressant called, the "Appetite Assistant." The appetite suppressant tablet can be incorporated with the balanced nutrition eating plan offered by the company that will aid in weight loss and is considered one of the best weight loss diet programs available by many.
Download the free balanced nutrition eating guide visit the company's website at http://www.appetiteassistant.com/.
The Appetite Assistant's free diet guide is a simple categorized meal plan to achieve different results. The Appetite Assistant's Balanced Nutrition Eating Guide can aid in losing weight as well as maintaining weight while learning a healthy eating lifestyle.
"I lost a total of 5 lbs in the 10 days and I felt great the whole time. I usually get hungry around 10:00 and 3:00 but did not get hungry at all. I did not do any exercise during the first 10 days," says Melanie, actual appetite assistant user.
The balanced nutr
ition eating guide can be considered on of the best weight loss diet programs because it may help you:

Effectively achieve a balanced diet
Re-regulate your metabolic system
Maintain normal energy levels
Burn fat and maintain muscle
The Appetite Assistant is an appetite suppressant pill that can be taken up to three times a day to boost energy and curb hunger pangs. Although the results are more dramatic when used with the simple numbered diet guide, results can still be achieved with just the product.
For more information about the best weight loss diet programs offered by True Healthy Products, visit their website at http://www.appetiteassistant.com/.
True Healthy Products
2460 N Courtenay Parkway, #210
Merritt Island, FL 32953
USA
888-400-2920