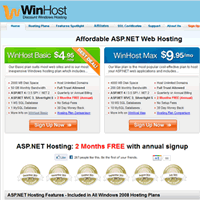 San Francisco, CA (PRWEB) August 14, 2012
Top-Cheap-Web-Hosting.com (TCWH) announced WinHost as the best Windows hosting provider in 2012 for their cost effective Windows hosting service for ASP.NET developers, rated based on the TCWH editors' true hosting experience and the comparison with 20+ Windows hosting services that they had reviewed.
WinHost is a mature professional Windows hosting provider operated in Pasadena CA, US, founded by a team of Windows experts in 2000 that only provides Windows hosting service in the 12 years. WinHost won the award of best Windows hosting provider for the rich-featured, fast, reliable and budget Windows hosting service with the knowledgeable and experienced Microsoft technical support.
WinHost has 2 Windows hosting plans named "WinHost Basic" and "WinHost Max", pricing for $4.95/mo and $9.95/mo. Now WinHost is offering a special discount for 2 months free for all visitors going through this WinHost promotional link, the effective price is starting at $4.11/mo only.
As introduced, the essential difference between these 2 plans is the dedicated memory allocated for every hosting account, "WinHost Basic" includes 128MB dedicated memory, and "WinHost Max" includes 256MB dedicated memory. Based on the TCWH performance analysis report, "WinHost Basic" is the fastest of all Windows hosting services pricing under $5/mo, and even "WinHost Max" is faster than some cheap Windows VPS services that provide 512MB memory only.
The 2 WinHost Windows hosting packages are both leveraging the latest cutting-edge Microsoft technology and providing the attractive Windows hosting features as following:
1) Based on Windows Server 2008R2 Web Edition and IIS 7.5
2) Support .NET Framework 2.0/3.5SP1/4.0, ASP.NET MVC 2/3, Silverlight 4/5.
3) Support Microsoft SQL Server 2008R2/2012 Web Edition.
4) Allow to host unlimited domain names on 1 account.
5) Support ASP.NET hosting with Full Trust level.
6) Allow Remote IIS Management, web deploy, and remote SQL Server Management Studio access.
To learn more about the award of best Windows hosting for WinHost and the WinHost in-depth review, visit http://www.top-cheap-web-hosting.com/winhost-review/winhost-windows-web-hosting-review
About Top-Cheap-Web-Hosting.com
Top-Cheap-Web-Hosting.com is an independent Windows hosting review website, rating Windows hosting providers based on their real experience and the real customer reviews, designed to help people find the best Windows hosting service at the most affordable rate.