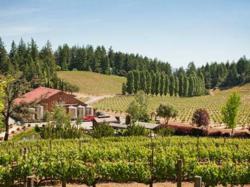 We wanted to share an enchanted evening at our restored winery with all of our industry partners
Healdsburg, CA (PRWEB) August 14, 2012
The Wilson Artisan Winery Group is thrilled to announce its industry open house, which is being held on Aug. 15 at Soda Rock Winery, one of Sonoma's best wineries and wedding venues. The event is celebrating the winery's remarkable site, which is a product of a decade's worth of careful restoration.
"We wanted to share an enchanted evening at our restored winery with all of our industry partners," Amber Duval, wine club manager of Soda Rock Winery, said.
During the open house, guests will be treated to the winery's award-winning wines--paired with exquisite dishes--at Soda Rock Winery's beautiful tasting room and courtyard area. It will be an enjoyable gathering filled with live music. Lavish hors d'oeuvres of grilled and marinated rib eye, atop olive oil-fried smashed potatoes with garlic-chive sour cream and grilled vegetables will be available.
"Many of our wines pay tribute to Soda Rock's past, including our new release, the 2010 Wentworth Zinfandel, which will be featured at the event," Duval said. "This wine is named in honor of Fred Wentworth, who was the lively owner of the Alexander Valley store around 1870. Industry guests will also enjoy our 2010 Alexander Valley Sauvignon Blanc, 2009 Primitivo, 2005 'Mercantile' Cabernet Sauvignon and our 2007 'Five Star General' Cabernet Sauvignon."
The property where the winery stands was purchased by Ken and Diane Wilson in 2000, after which they launched a long-term plan to restore the property using recycled and green materials.
"Today, you see a decade of carefully planned restoration," Duval noted. "We look forward to opening the doors and sharing this remarkable site and our award-winning wines with our industry partners."
For more information about the industry open house or any of Soda Rock Winery's products or services, call 707-385-9280 or 707-433-4355, view the wedding venue on the Web at http://www.sodarockwinery.com, or visit 8015 Highway 128 in Healdsburg.
About Soda Rock Winery
Soda Rock Winery is nestled in Sonoma's scenic Alexander Valley. This extraordinary venue offers locals and tourists the opportunity to enjoy a delicious array of wines, as well as a historic facility for winery weddings and other social gatherings.