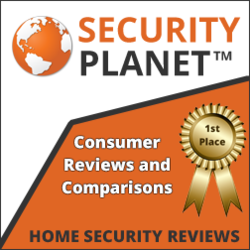 Consumers look to SecurityPlanet.com for the latest information on alarm system companies and comparisons.
San Francisco, CA (PRWEB) June 07, 2013
SecurityPlanet.com is the leading source of unbiased and independent home alarm reviews. The easy to read reviews and detailed comparisons make SecurityPlanet.com the useful resource consumers prefer for unbiased and independent home security reviews. Just recently, finishing the home alarm reviews for the best wireless alarm company, SecurityPlanet.com is now announcing the final results.
Consumers are aware of the importance of home security and safety and now have an impartial source of information to consult when shopping for a wireless home alarm system. Dependability and safety are two major themes which were uncovered when conducting the 2013 reviews.
Gavin Anders from SecurityPlanet.com states, "The SecurityPlanet.com staff found that homeowners are concerned with dependability and almost all preferred wireless alarm systems with cellular monitoring. This is largely due to the fact there aren't any wires exposed outside the home. This translates into a safer home alarm system as burglars cannot simply cut a telephone wire to render the home alarm system useless."
The best wireless home alarm system company in 2013 is FrontPoint Security. FrontPoint Security delivers exceptional service to their customers and gives customers a 30-day money back guarantee. FrontPoint Security's capability to keep an excellent customer service rating along with their cutting-edge technology has made them a popular choice among buyers. To see how FrontPoint Security compares to the competition and to compare the features and services of the leading home alarm providers, visit http://www.securityplanet.com/best-home-security-systems/.
Remote features and access from mobile devices were an aspect that consumers considered prior to selecting a home alarm company. FrontPoint Security offers their customers with the ability to remotely arm and disarm the security system as well as configure the security system to deliver text message notifications when events occur in the home. Additionally, wireless home security cameras provide features for customers to remotely stream video straight to an iPhone or Android device.
SecurityPlanet.com - Best Security Systems
About SecurityPlanet.com
SecurityPlanet.com targets providing buyers with unbiased home security systems reviews. SecurityPlanet.com examines the capabilities and services of the top rated home security providers so consumers can easily select the best security system for their household. Consumers will discover helpful articles and tips on SecurityPlanet.com's home security blog to enable them to lead a safer and more secure lifestyle. Visit SecurityPlanet.com for the latest information on relying on home security systems reviews.