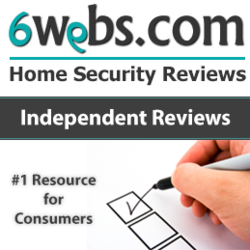 Compare the leading home security providers on 6Webs.com.
New York, NY (PRWEB) February 25, 2013
6Webs.com, a leading home security reviews site, is helping thousands of consumers to research and compare the features of the best home security monitoring companies. Recently releasing their home security systems reviews in 2013, the security system reviews site publishes their picks for various categories including best do-it-yourself or DIY home security system, best wireless security system and best professionally installed home security system.
"Wireless and mobility are two important deciding factors when consumers are in the market for a home security system", Tim Smythe of 6Webs.com stated.
He continues, "6Webs.com prefers to release reviews and rankings for each category to help consumers find the right fit for their lifestyle. Families who are always on the go enjoy the features that allow them to check in and manage their home from their mobile devices such as an iPhone, iPad or Android device. Many home security customers now are remotely streaming video to their smartphones or receiving text message alerts when doors are unlocked; allowing them to know when family members come and go."
According to 6Webs.com the features consumers get excited about are the mobility features as they see how easy it is to keep the family safe even with a busy come and go lifestyle. After conducting interviews with home security customers, it is the interactive features like the smartphone and mobile apps that are used on a daily basis. From a safety perspective it is the wireless and cellular home security systems that provide the most peace of mind. Having a 100% wireless system and communication to the home security company's monitoring station means there are no wires for an intruder to cut.
The 2013 Best Wireless Security System Company with Mobile Apps goes to FrontPoint Security. FrontPoint Security offers their customers a 100% wireless home security system experience from how the home security system interacts with the sensors to how it communicates to the 24/7 central monitoring station. FrontPoint Security maintains an A rating with the Better Business Bureau and provides services across the US. To read the full FrontPoint Security review and how their wireless home security systems and mobile apps compare to the competition, visit 6Webs.com.
The runner up in the best wireless security system company with mobile apps is Protect America. Protect America also offers their customers affordable, wireless home security systems that are easy to install. In third place is ADT Security. ADT is a well-known name in the home security space and is the best option for consumers who would like their home security system professionally installed.
To see the full comparisons and rankings of the leading home security system providers, visit 6Webs.com at:
http://www.6webs.com/best-home-security-systems/
About 6Webs.com
6Webs.com is focused on delivering independent reviews of the leading home security system providers in the nation. Reviewing dozens of home security monitoring companies each year, the 6Webs.com team of home security experts review and rank each company's customer service record, monitoring plans, equipment, warranty and pricing. Only the top home security providers make it to the top of the list. 6Webs.com is also focused on delivering consumers educational information in the way of tips and articles to help them lead a safer and more secure lifestyle.