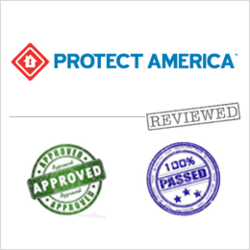 Protect America's wireless home security systems are still highly recommended by our home security experts. Our staff recommends that consumers call and learn more before choosing a wireless home security system.
Dallas, TX (PRWEB) April 30, 2013
Home security system, Protect America, was hailed as one of the best wireless security systems for this year. In a list published by SecuritySystemReviews.com, a leading home security system reviews website, the company placed second among all other companies in the category. According to the website, Protect America offers one of the most affordable security system packages in the market.
Home security services have grown in popularity over the past couple of years because of the growing dangers brought by crimes at home. Among these security services is wireless security system. This type of home security service offers hassle-free systems without the annoying chords that keep the sensors wired together. Over the past few years, more security system companies have been entering the market, offering wireless services but only a few have proven to deliver. With this, SecuritySystemReviews.com published its 2013 list of the best wireless systems to help consumers decide which service to employ for their homes.
According to the website's Protect America review, the company offers one of the lowest up-front costs and monthly fees in the market today. Offering great affordability, the company features a selection of packages for every need and budget. However, Protect America has set itself apart from other companies by offering free equipment with every package. Clients can choose from five different packages with different sensor options, all of which come with zero up-front costs. It also offers one of the lowest monitoring, remote access and home automation monthly fees in the market today.
However, even with its zero up-front costs and low monthly fees, Protect America doesn't compromise quality service. The company offers state-of-art wireless security system equipment by employing General Electric (GE) technology. It makes use of GE's Simon XT control panel and Wireless Security Sensors. It also employs top of the line pan/ tilt security cameras, GPS vehicle tracking devices and X10 home automation systems. All these ensure consumers that they get durable and dependable security systems. It also offers phone line and broadband monitoring, as well as cellular monitoring which uses a built in cellular device inside the main Control Panel.
With its great affordability, state-of-the-art wireless equipment and dependable customer supports service, Protect America proves that it deserves a spot on the SecuritySystemReviews.com best wireless systems list.
For more details on Protect America and other wireless security systems, visit securitysystemreviews.com.
About SecuritySystemReviews.com
SecuritySystemReviews.com provides consumers a portal for all things home security system. The site offers up-to-date news, in-depth reports and unbiased reviews on the latest home security systems, services and companies in the market. Headed by a team of experts with years of professional experience, SecuritySystemReviews provides useful information to help consumers make the right decision when employing security systems for their homes or businesses.
# # #