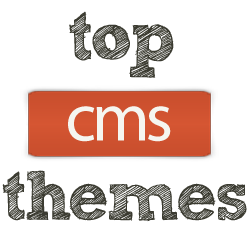 Finding the best WordPress theme for your site has never been easier!
(PRWEB) February 01, 2012
Top CMS Themes has created a new way of helping out designers, website developers and hobbyists who are interested in building their websites, by picking up and filtering out the best WordPress themes for their websites, all while saving them time and money: time because they won't have to spend hours browsing many websites and checking out demos of WordPress themes, and money since they won't end up buying the wrong one beforehand and have to start all over again.
The new Advanced WordPress themes Search function is guaranteed to help webmasters choose the perfect WordPress theme for any website in no time. In less than a minute, a specifically generated list of themes according the features and styles webmasters look for in preparing websites or blogs, is generated. Running a photography business? There are tons of photography oriented themes to choose from. Want to maintain a gossip blog? There are news and magazine-related themes that will keep readers on top of every scoop! Musicians, Internet marketers, corporate writers, or artists that want to showcase their work, the Top CMS Themes Advanced Search function will help everyone save lots of time and pick out the best CMS theme possible for a blog or website.
Here are the features of the Advanced Search and Share functions:

Easily pick out the best WordPress theme, catered to any website type and its niche
All themes selected are handpicked and personally reviewed by the Top CMS Themes team, and only the visually appealing and feature-rich themes are accepted, ensuring the highest quality and usability
A wide variety of themes to choose from, both free and premium, for every niche, subject and market
The ability to showcase a group of themes to clients in one click: filter out the themes needed and present them as a neat list to clients looking to design their website or blog
Extensive choices for options will return only the most specific themes aimed at each website, based on theme features and capabilities, visual design (columns, sidebars, etc.) and niche specifics (photography, business portfolio, personal blogging, etc.) helping visitors find exactly what they're looking for, and for website developers to be able to suggest a range of themes to their clients via email, with the click of a button.
Easily make lists to save precious time checking out all the themes on our site. Make the lists, save them for later!
Top CMS Themes also helps visitors save and share their advanced searches, in order to be always updated on their interests. The RSS feed guarantees that subscribers will always be up to date with new submissions. Since the team posts one theme per day, it would be an excellent choice to subscribe to the RSS Feed in order to always be one of the first to check out the best WordPress themes of the market. All themes are handpicked and reviewed by the TopCMS team, and include comments by users on the themes and their reviews, thus ensuring each visitor won't just get the team's word for it. Designers and developers that want to be included on the site can submit their WordPress theme for consideration.
The Top CMS Themes team will continue to review and showcase the best WordPress themes for its visitors, and create the optimal possible value for website promotion and usability. Visit Best WordPress Themes today and try the new search.
###