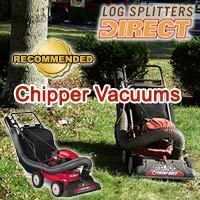 Every fall when the trees in your yard dump all their leaves, you're stuck raking them up
Bolingbrook, IL (Vocus) September 22, 2010
Today LogSplittersDirect.com released its recommendations for the best chipper vacuums.
"Every fall when the trees in your yard dump all their leaves, you're stuck raking them up," said Hoch. "But with a chipper shredder vacuum, you can just wheel around your lawn and collect them all quickly and easily."
Most retailers are loyal to whatever lawn vacuums are in their store, according to Jon Hoch, founder & CEO of Power Equipment Direct, parent company of Log Splitters Direct.
LogSplittersDirect.com, however, isn't your ordinary retailer. The online superstore specializes exclusively in log splitters and carries more than 35 different models including electric log splitters and gas log splitters, as well as leaf shredder vacuums from some of the nation's leading brands.
The online retailer combined recent sales history, customer reviews and personal insight to generate their final recommendations.
Once the dust and data settled, only 3 chipper shredder vacuums sold by LogSplittersDirect.com were given its prestigious "Recommended" status.
Top Chipper Vacuums:
Good: Troy-Bilt (24") 190cc Chipper Shredder Vacuum - 24B-060E766
Better: Troy-Bilt (24") 190cc Self-Propelled Chipper Shredder Vacuum - 24B-070J766
Best: Troy-Bilt (24") 206cc Self-Propelled Chipper Shredder Vacuum - 24A-204B766
In addition, the expert staff personally wrote online reviews for each chipper vac, explaining why the company recommended it.
By providing the recommendations and reviews, LogSplittersDirect.com hopes to arm shoppers with enough ammunition to pick the perfect chipper shredder vacuum for their needs.
Power Equipment Direct operates nine niche online superstores. In addition to LogSplittersDirect.com, the Bolingbrook, IL-based company operates AirCompressorsDirect.com, ElectricGeneratorsDirect.com, PressureWashersDirect.com, SnowBlowersDirect.com, MowersDirect.com, WaterPumpsDirect.com, ChainSawsDirect.com and SumpPumpsDirect.com.
# # #