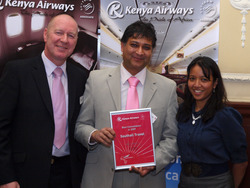 the criteria for judging the best consolidator, is the true indication that southalltravel.co.uk is a preferred choice of travellers not only for Middle-Eastern, Asian and Far-East destinations but also for the African destinations
London, UK (PRWeb UK) March 20, 2010
In what is seen as another leap forward, the UK based Southall Travel has recently bagged the 'Best Consolidator' Award for 2009 from Kenya Airways, one of the most renowned air carriers in Africa. Mr. Bruce Watson, Sales Manager UK and Ireland, Kenya Airways presented the award to Mr. Jaymin Borkhatria, Director of Sales, Southall Travel at an agency-appreciation lunch and awards ceremony organised by the airline at the Simpson's-in-the-Strand, London. Also present at the event were Ms. Salina Hussein, the Key Account Manager for Southall Travel at Kenya Airways, and the representatives of some of the distinguished travel agencies in the country.
The gala luncheon event was put together to award the agents for their support to Kenya Airways. "The award with the 'highest sales turnover between January and December 2009' as the criteria for judging the best consolidator, is the true indication that southalltravel.co.uk is a preferred choice of travellers not only for Middle-Eastern, Asian and Far-East destinations but also for the African destinations".
On winning the award, Mr Jaymin Borkhatria commented that "it is an honour to get this award especially because we are fairly new player in Africa". The award from Kenya Airways is definitely another feather in the company's cap as it follows the recent accolade of similar nature conferred upon the agency by the renowned Indian carrier, the Jet Airways.
Southall Travel has gained phenomenal popularity in past few years and has emerged to become a high equity brand which Mr. Borkhatria attributed to the great sensitivity that the company has towards its customers and the sharp understanding of their travel needs. "The company remains steadfast and determined in becoming a household name in the country by maintaining its pre-eminent position in the international travel business," expressed Mr. Borkhatria.
Notes to Editors
Southall Travel has become increasingly popular as a preferred travel agency serving millions of travellers every year. The agency is a consolidator for all major airlines world wide and caters to those looking forward to book cheap flights, hotels and package deals to destinations across the world. Generally believed to be the experts in flights to India and the rest of Asia, the company has of late been able to establish itself as a global destination expert. With an efficient and a highly user friendly website, http://www.southalltravel.co.uk, the agency has reached out to millions and gained tremendous popularity as a quality holiday provider. Southall Travel is an ABTA Member and is certified by IATA. The company operates with an ATOL licence for the greater financial credibility. In addition the company's website possesses a securitymetrics' site certification and also uses the services of VeriSign to protect the interest of its users.
# # #