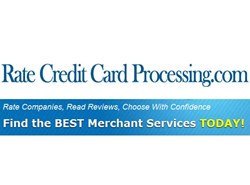 Our recommendations will makes sure restauranteurs aren't scammed by marketing promises with little true value...
Miami, FL (PRWEB) September 10, 2013
Restaurant owners looking for a credit card terminals and processing services can now take advantage of the latest report released by RateCreditCardProcessing.com. The online platform specializing in comparing merchant service features has released their recommendations for the companies offering the best in support and features for the unique needs of small restaurants and cafes.
"Restauranteurs and cafe owners have countless items pulling their focus this way and that way as they fight to create a successful business. Our payment service recommendations will help ensure they aren't being fleeced by their credit card merchant service," said Greg Wong editor with RateCreditCardProcessing.com.
According to Mr. Wong, establishments need a credit card processor with:

Hassle free, speedy setup and integration with front of the house systems
Rock star level support in times of need
Customer data security and super simple process for employees
"Restaurant owners can quickly view the feedback and scores of top companies vying for their business, and at a glance get to the bottom of which company is providing the best offering," Wong said.
RateCreditCardProcessing.com offers customer driven reviews and feedback of over 50 top processors, while ranking of companies is 100% consumer driven. Feedback throughout 2013 has helped shape the report.
"No company is perfect, but we believe your business is too precious to waste time and money working with less than the best processor," added Mr. Wong.
To read which services have been used effectively by real restaurant owners in 2013, and into 2014, visit today: http://www.ratecreditcardprocessing.com
ABOUT RATECREDITCARDPROCESSING.COM
Ratecreditcardprocessing.com believes that accurate research is the best way for businesses to choose a credit card processor, and proper research begins with what actual customers are saying.
That's why all of the company's reviews are submitted by visitors and are ordered solely by customer rating and the company does not accept advertising. To find out at a glance which transaction processors ranking best among consumers, visit today: http://www.ratecreditcardprocessing.com