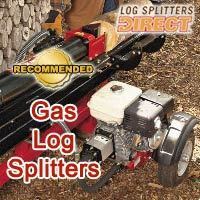 When you need to chop a lot of wood and you don't want to expend a lot of energy, these gas log splitters are for you
Bolingbrook, IL (Vocus) October 8, 2010
Today LogSplittersDirect.com released its recommendations for the best gas log splitters.
"When you need to chop a lot of wood and you don't want to expend a lot of energy, these gas log splitters are for you," said Hoch. "Depending on the amount and size of logs you need to split, you can choose a horizontal or vertical log splitter, or one that does both."
Most retailers are loyal to whatever wood splitters are in their store, according to Jon Hoch, founder & CEO of Power Equipment Direct, parent company of Log Splitters Direct.
LogSplittersDirect.com, however, isn't your ordinary retailer. The online superstore specializes exclusively in log splitters and carries more than 35 models including chipper shredders and electric log splitters, as well as gas powered wood splitters from some of the nation's leading brands.
The online retailer combined recent sales history, customer reviews and personal insight to generate their final recommendations.
Once the dust and data settled, only 3 small gas log splitters, 3 medium gas log splitters and 3 large gasoline powered wood splitters sold by LogSplittersDirect.com were given its prestigious "Recommended" status.
Top Small Gas Log Splitters
Good: Iron & Oak EZ Split 8-Ton Portable Compact Gas Logsplitter - BHPCLS09
Better: SpeeCo 10-Ton Split Master Gas Log Splitter - LS401510
Best: Iron & Oak EZ Split™ 15-Ton Horizontal Gas Log Splitter - BHPCLS15
Top Medium Gas Log Splitters
Good: Ramsplitter 16-Ton Horizontal / Vertical Gas Log Splitter w/ 5 HP Honda GC Engine - HV16-1
Better: Swisher 22-Ton Horizontal / Vertical Gas Log Splitter - LS722H
Best: Iron & Oak EZ Split 34-Ton Horizontal / Vertical Log Splitter With Honda GX Engine - BHVH3405
Top Large Gas Log Splitters
Good: MTD Gold 27-Ton Horizontal / Vertical Gas Log Splitter - 24BF570L004
Better: Ariens 27-Ton Gas Log Splitter w/ Subaru Engine - 917001
Best: Troy-Bilt LS33 - 33-Ton Gas Log Splitter w/ Honda Engine - 24AD597D766
In addition, the expert staff personally wrote online reviews for each gas log splitter, explaining why the company recommended it.
By providing the recommendations and reviews, LogSplittersDirect.com hopes to arm shoppers with enough ammunition to pick the perfect gasoline-powered wood splitter for their needs.
Power Equipment Direct operates nine niche online superstores. In addition to LogSplittersDirect.com, the Bolingbrook, IL-based company operates AirCompressorsDirect.com, ElectricGeneratorsDirect.com, PressureWashersDirect.com, SnowBlowersDirect.com, MowersDirect.com, WaterPumpsDirect.com, ChainSawsDirect.com and SumpPumpsDirect.com.
# # #