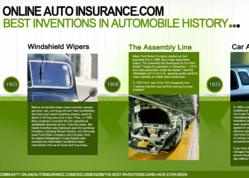 Los Angeles, CA (PRWEB) September 13, 2012
The automobile is a beautiful thing, but take off all its bells and whistles—it's just an engine in a box with wheels.
So OnlineAutoInsurance.com salutes the add-ons that made the car into what it is today with an infographic following the quintessential car inventions throughout history.
"A car doesn't just take you from one place to another," OAI manager Cesar Diaz says. "The gadgets and devices that have been invented for cars have made the ride more enjoyable and—more importantly—safer. Without those inventions, auto insurance coverage and the insurance industry would look completely different from what they look like today."
Windshield wipers are the car cleaner keeping the road clear in front of you, and went through several iterations after it was first invented by Mary Anderson in 1903. That pioneering mechanism was upgraded by Robert Kearns, who took Ford Motors and the Chrysler Corporation to court over patent infringement. Windshield wipers on modern-day vehicles are derived from Kearns' wiper patent.
The assembly line changed how we see supply-and-demand. Most importantly, it changed the entire the U.S. auto industry. When Ford Motors started their first assembly line in 1908, there was plenty of demand for cars—but how would they supply it? They did so by churning out car after car on the assembly line, eventually putting Americans on the roads we know and love today.
Seat belts aren't mentioned in the infographic but are an indispensable invention, saving many a chin, nose and cheekbone from that stiff steering wheel. The very first seat belt was created by George Cayley in the late 19th century before the first seat belt law was introduced in the 1970s.
Air conditioning was invented by a company in the Big Apple in 1933. It might have been created to ward off New York City's nasty, sticky, summertime humidity, but whatever the reason, easing drivers' discomfort with in-car air conditioning proved to be a sound investment. Design improvements helped bring the air conditioning system into the modern era, where luxury cars can cool each seat in the vehicle to its own temperature. Let's give thanks for technology's wonders.
What other inventions made the list? To find out, check out the infographic and visit the post on the OAI community forum to talk about your own favorite car creations and how they've made your ride sweeter, safer and smoother.