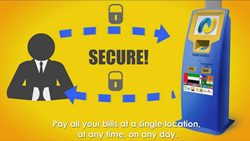 I have been a part of this terminal business for years and have never come across an investment that provides such huge dividends. This is the best investment that I have made so far." - Richard Fleischman, San Diego
Dubai, UAE (PRWEB) April 10, 2014
TauNigma Company, an emerging developer of automated business solutions in the field of information technologies and electronic commerce, today announced recent expansion into Dubai. The strategic move is expected to increase TauNigma's market share many fold by implementing the most comprehensive network of payment delivery services in the region.
Why Dubai?
Boasting the second largest economy in the Arab world, more than 8 million people call the United Arab Emirates home. The city of Dubai serves as the country's center for commercial and cultural activities, making a strategic move to this sector "inevitable," said TauNigma CEO Alexander Chub. "We are proud to serve customers in one of the most attractive and economically relevant regions of the world."
TauNigma Advantage
The expansion announced today gives business owners a complete payment-processing and advertising platform to engage existing and potential customers. TauNigma electronic commerce franchise opportunities include the 'TauNigma Kiosk," ideal for retail and service outlets easily accessible to major customer flows, and the compact, mobile "TauNigma POS," a fully functional payment processing solution for small to mid-size retailers.
Self-serve kiosks offer ATM services, money transfer, bill pay, prepaid debit, gift and loyalty card issuance and loading facility to be added in the near future. Advertising space is also leased on TauNigma kiosk and POS terminals.
"Convenience combined with end-to-end financial services will significantly increase foot traffic for respective merchants," Chub said. Business customers can access account information, 24-hour, live customer service, and process payments all from a single location within an online virtual portal.
The new TauNigma office is located at Tecom, Al Shafar Tower 1, office 1003, Dubai, and is the second UAE service center for the company. To learn more about TauNigma or to inquire about electronic commerce opportunities, please click here
About TauNigma Company:
Started in the year 2007 by a Kazakhstani programmer from named Alexander Chub. TauNigma has become a global name that has helped to franchise products all over the world. TauNigma aspires to form a universal business environment for the implementation of effective sales by using the most modern technologies. To know more about TauNigma, please click here.