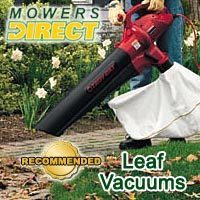 With a leaf vacuum, it's easy to wrangle up all those fallen leaves strewn wildly across the expanses of your lawn
Bolingbrook, IL (Vocus) October 14, 2010
Today MowersDirect.com announced its recommendations for best leaf vacuums.
"With a leaf vacuum, it's easy to wrangle up all those fallen leaves strewn wildly across the expanses of your lawn," said Jon Hoch, founder and CEO of Power Equipment Direct, one of the fastest growing e-commerce companies in the United States. "They have the ability to suck up more than a dozen gallons of leaves each minute, so you can say good riddance to that old rake."
Most retailers are loyal to whatever is on their shelves, added Hoch.
MowersDirect.com, however, isn't your ordinary retailer. The online superstore specializes exclusively in lawn mowers, lawn tools and accessories. The site currently offers electric and gas-powered leaf vacuums from many leading national brands.
The online retailer combined retail prices, recent sales history, customer reviews and personal insight to generate their final leaf vacuum recommendations.
Once the dust and data settled, only 3 leaf vacuums sold by MowersDirect.com were given its prestigious "Recommended" status.
Top Leaf Vacuums
Good: Toro Ultra Blower Vac™ Handheld Electric Leaf Blower/Vacuum - 51599
Better: WORX TriVac All-in-One Compact Blower/Mulcher/Vac - WG500
Best: Husqvarna Consumer 28cc Handheld Leaf Blower/Vacuum - 125BVX
In addition, Hoch personally wrote online reviews for each leaf vacuum, explaining why the company recommended it.
By providing the recommendations and reviews, MowersDirect.com hopes to arm shoppers with enough ammunition to pick the perfect leaf vacuum for their needs.
Power Equipment Direct operates nine niche online superstores. In addition to MowersDirect.com, the Bolingbrook, IL-based company operates AirCompressorsDirect.com, ElectricGeneratorsDirect.com, PressureWashersDirect.com, SnowBlowersDirect.com, WaterPumpsDirect.com, SumpPumpsDirect.com, ChainSawsDirect.com and LogSplittersDirect.com
# # #