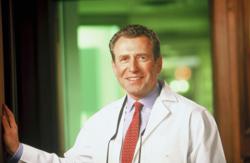 "I believe very strongly that it's not possible to sustain a quality practice without constantly learning, challenging your assumptions, and expanding your skills and your purview."
New York, NY (PRWEB) May 02, 2012
Dr. Jan Linhart was recently interviewed by Betsey Schaper for the Lifestyle section of the Fairfield County Look. The interview covers a wide range of topics, including Dr. Linhart's professional and family background, the rewards and challenges of having his own dental practice, and medical tourism.
Dr. Linhart is a world-renowned, Manhattan-based dentist, who started his own practice thirty years ago with a single patient chair. Today, his upmarket, comprehensive practice draws patients from all over the world, including foreign heads of state. His clientele bespeaks the quality of Dr. Linhart's work, as well as his emphasis on patient comfort and advanced technology.
In the interview, Dr. Linhart also emphasizes education and philanthropy. Says Dr. Linhart, "I believe very strongly that it's not possible to sustain a quality practice without constantly learning, challenging your assumptions, and expanding your skills and your purview." He and his wife donate regularly to education, including endowing a scholarship at Bowdoin College, where Dr. Linhart studied as an undergraduate. The Linharts also established the NYU Linhart Continuing Dental Education Program at his alma mater, the NYU College of Dentistry.
Of course, no interview with a renowned dentist is complete without oral health care advice. Says Dr. Linhart in the interview, "The three most important things people can do for the health of their mouths are: 1) brush and floss three times a day. A dentist's greatest failure most often is in convincing patients to floss; and yet, it's critical. 2) Avoid sweets. 3) Pay attention to your gums." Among other topics, Dr. Linhart also discusses whitening products and how to achieve a natural-looking, beautiful smile.
The full text of Dr. Linhart's interview can be found at the Fairfield County Look website.
Dr. Jan Linhart, DDS, is a Manhattan based dentist who attracts patients from all over the world. Stop by our Park Avenue Manhattan office to inquire about our Manhattan teeth whitening, implant dentistry procedures as well as other procedures such as restorative dentistry, porcelain veneers and more.